Underlayment's for Resin Floor Finishes
Underlayment's are basically substrate floor levelling mortars and screeds, which are generally designed to be pumpable and flow applied, with minimal finishing and curing demands, then to produce a uniform level substrate with a surface that is suitable to apply the specified type of floor finishing system. The best underlayment solution is dependent on the condition of the existing substrate, the substrate profile, median thickness, and variations in thickness required, to achieve the desired levels. This is in addition to the site environmental constraints and substrate moisture content, plus the selected floor finishing technology. The underlayment's for resin floor finishes must provide the necessary strength together with a surface suitable to accept the resin floor system primer and/or base coat according to type.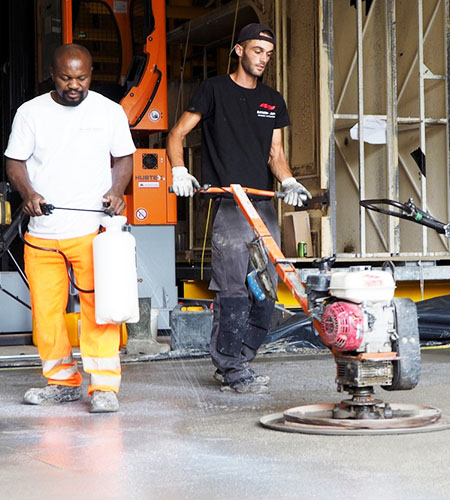 The need for flooring underlayment's is not exclusively in refurbishment projects to replace and restore floor substrates, but increasingly these innovative modern material systems can also provide the ideal solution for the build-up of flooring systems in new construction. This is because their minimum moisture content require reduced drying times and curing demands, as well as providing further project programme and scheduling advantages, allowing the floor finishes to be installed after the main building works are completed, reducing damage and protection requirements for the final floor finishes, and seamless connecting details, joints, and terminations etc. as well.
The different underlayment material technologies are basically all cement and / or gypsum based, with the addition of polymeric resins, such as the latest freeze-dried polycarboxylates known as ultra-super-plasticisers. These are used to control the water content, whilst still achieving the required application flow, ease of finishing and then rapid hardening with minimal curing characteristics, as well as in combination with the selected graded aggregates, all the necessary strengths and performance properties in service.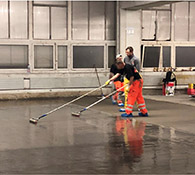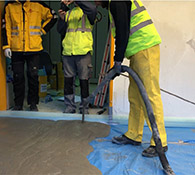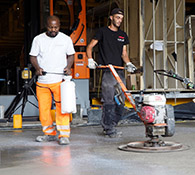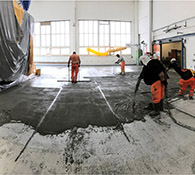 Another advantage of these new systems is that they have extremely low emissions to meet the latest international standards for healthy indoor air, plus they have exceptionally low shrinkage, and the surfaces are non-dusting. Whatever your specific project underlayment requirements, the team from NCC can provide unique solutions to any flooring project, for redevelopment and refurbishment schemes or a new build, multi-storey projects designed to be sustainable with a low carbon footprint. NCC underlayment specialists will provide detailed design support and specifications, with method statements and on-site testing in conjunction with selected contracting partners to suit any scheme.
We hope the information on cement floors and underlayments on this page and throughout our website is of initial assistance. You can call us for our FREE support at any time during normal office hours on: 01257 266696 Alternatively, email us technical@resinflooringsite.co.uk and we will get back to you just as soon as we can.