Paving Jointing Mortars
Paving Joint Mortars - from GftK GmbH.
Since 2007, NCC Streetscape has been the exclusive UK and ROI Distributor of the unique GftK Paving Joint Mortars, which are manufactured by GftK GmbH near Cologne. These advanced two-component, epoxy resin based paving joint mortars are established as the clear paving jointing technology leader, as well as the market leader for resin paving grouts in the UK and Europe.
NCC Streetscape provide GftK Paving Joint Mortars for all types of paved area including domestic and commercial patios, terraces, and roadways and all types of hard landscaping, even paved areas for heavy commercial vehicle traffic and truck hard standings.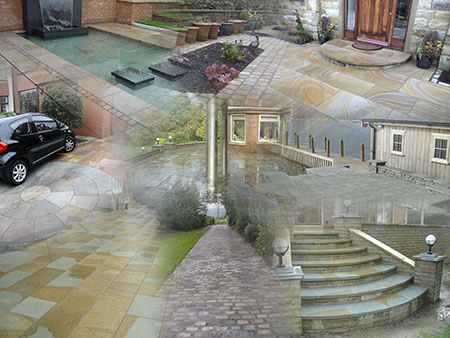 NCC Streetscape provide full technical assistance to support your paving and hard landscaping projects with FREE on-site support available, together with our overall commitment to outstanding customer service. Please follow this link to our dedicated website https://www.nccstreetscape.co.uk/ for much more information, case studies and training videos etc.
The unique GftK vdw range of paving joint mortars can save you time and money on every project and represent the 'State-of-the-Art' solution for high performance and extremely durable paving joints in many different areas. GftK's vdw range are 2-component, self-compacting, epoxy resin pre-coated and bound, graded alluvial (rounded) quartz sand, paving joint mortar for pedestrian and vehicular traffic loads, including larger vehicles. When fully hardened it is fully resistant to cleaning with high pressure water jetting and even to mechanical street cleaners and sweepers. It is resistant to, and prevents weed growth and damage by boring insects such as ants etc. Also, importantly, GftK's vdw Paving Joint Mortar​s are applied standing-up, so bringing paving jointing and grouting to a new, more sustainable level, with application in a healthier and more ergonomic position than being on your hands and knees all day. They are designed for extremely fast self-compacting application, with no delays and no additional waiting even during periods of continuously wet weather and at colder temperatures. This is because the material (vdw 850) can be applied in the wet, even in the rain - and in cold (non-freezing) conditions, as it will continue to cure and more quickly when the temperature increases above 8-10 °C.
The images below show the installation of GftK's vdw 850+ on natural stone paving and the second set show the installation of GftK's vdw 815+ on external (min 20mm) porcelain tile paving – the latest domestic paving trend in the UK today.
GftK's vdw 850+ on natural stone paving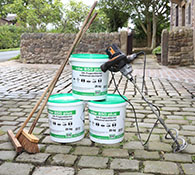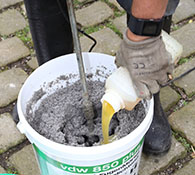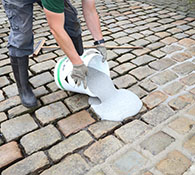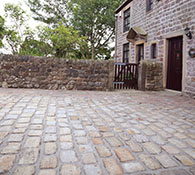 GftK's vdw 815+ on porcelain paving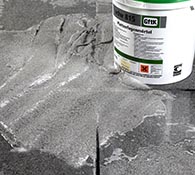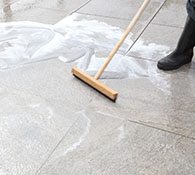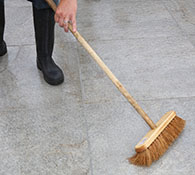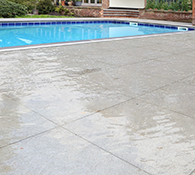 On the Paving Jointing Technologies of our sister company's NCCStreetscape website, there is a huge amount of information and more details on all the available paving joint technologies, to help in determining the most efficient and cost effective and economic solutions for grouting and jointing all different types of paving in all different types of area and different levels of exposure.