Resin Floor Repair Systems
Prior to applying any resin flooring system, it is always necessary to first carry out repairs to any visible damage or cracks in the concrete floor surface, otherwise they will be reflected through the new resin floor finish and become even more visible. The nature (i.e. moving or non-moving) and the cause of any cracks or damaged joints and joint arrises in the concrete floor must also be considered and treated appropriately to ensure there will be no contamination or adverse future cracking of the resin floor system.
Repairs to Concrete Floor Surface Defects and Damage
Repairs can be required to surface damage in concrete floors for many different reasons including defects in the original concreting work, i.e. honeycombing, voids, unsuitable aggregates such as 'mudstone' pop-outs, inadequate surface finishing or curing, etc. Damage to concrete floor surfaces can also be caused by impact, wear, abrasion or chemical exposure and attack during service.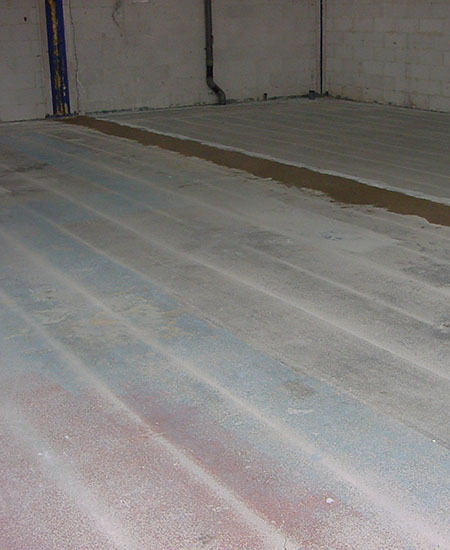 With all damage to concrete floor surfaces that are to receive a new resin flooring system, the first requirement is to establish the cause and extent of the damage and then to mechanically break out and remove any unsound or weak concrete, always ensuring that any voids in the slab and / or any areas of honeycombing are fully exposed.
The best method of concrete floor repairs will depend on the size and depth of repair required, the type of resin flooring system to be installed, the floors future exposure and performance required, plus the time available and the environmental conditions at the time. Basically sound concrete floor repairs can be made with cement based mortars or epoxy resin based mortars. Larger, thicker areas of damaged floors are usually repaired with cement based products providing there is sufficient time for them to harden and cure to the acceptable moisture content for the resin flooring system selected. If time is short then rapid hardening cement based products, or even faster hardening epoxy resin repair mortars can be used. Epoxy resin repair mortars are much more expensive, but generally the new resin flooring system can go ahead the very next day, whilst with almost all cement mortars, at least 7 days will be required before they can be over-coated with the resin floor materials.
Technically this is because of a combination of reasons – time to dry and harden, time for the mortar to reach an acceptably low moisture content, plus the time required for the mortars surface alkalinity to be neutralised (by natural atmospheric carbonation). Resin Flooring Site stock and supply a full range of concrete floor repair products including concrete additives to improve the strength and reduce the initial water content of site-batched cement repair mortars, a range of different pre-batched cement and rapid hardening cement based repair mortars for different thicknesses and areas, plus a full range of epoxy resin based concrete floor repair products. Therefore whatever surface damage has happened on your concrete floor we can provide detailed repair recommendations and method statements instructions, together with all of the necessary materials required.
For advice and assistance in any aspect of concrete floor repairs, please call any of our offices and one of our Resin Flooring specialists will be pleased to assist you.
Crack Repairs in Concrete Floors
Cracks in concrete floors can be caused by a number of individual construction problems, or a combination of different reasons, including concrete shrinkage, building movement or settlement, machine vibration or excessive loading, plus inadequate or incorrect joint or slab design and construction.
To successfully repair cracks and effectively seal cracks in concrete floors, it is important to understand the exact reason for the crack and also if any further crack movement will occur. This can obviously be a technical issue and so a qualified Structural Engineer should normally be involved to determine this. On new construction projects, it is especially important to do this as early as possible, in order to determine the correct remedial action.
Resin Flooring Site can advise you on how best to repair any cracks in your concrete floors, please call any of our offices and one of our flooring specialists will be delighted to assist you.
a. Repairing Moving Cracks in Concrete Floors
If the cracks are still likely to be subject to future movement, then they should normally be treated as joints, cut square, brought through the floor finish and sealed with an appropriate floor joint sealant such as Sikaflex PRO 3WP – See the Concrete Floor Joints and Arris Repairs section below and the Floor Joint Systems Page of this website.
b. Repairing Non-Moving Cracks in Concrete Floors
If the Structural Engineers' assessment is that a crack is non-moving, or at least no longer a moving crack in the concrete, then it can be repaired and sealed prior to applying the new resin flooring system. The best procedure and materials for doing this depends on the width, depth and length of the crack. It is likely that the surface will need opening / cutting out to remove any loose materials and then it can be 'surface sealed' with a fine epoxy mortar, such as Sikadur 31, which is pressed into the cracks. Alternatively where advised by the Structural Engineer, the crack repairs can be achieved by structural bonding with low pressure epoxy resin injection products, such as Sikadur 52 for example.
All of these floor repair and crack repair materials, plus detailed specifications and method statements for their installation are available from NCC Resin Flooring on request.
For detailed advice on your specific project please call any of our offices and one of our Resin Flooring specialists will be delighted to assist you.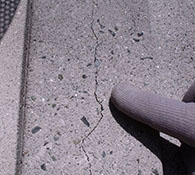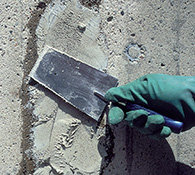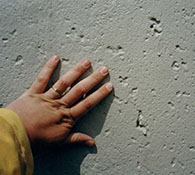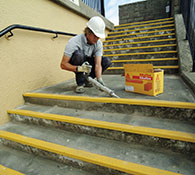 Concrete Floor Joint and Arris Repairs
Floor movement joints in new construction should normally be sealed with an appropriate joint sealant (having the correct movement capability) after the floor finish has been applied.
Existing movement joints in existing concrete floor slabs should also be brought through the new resin flooring system, dependent on the nature of the existing sealant, i.e. bitumen and elastic, polysulphide or silicone sealants cannot be over-coated with resin flooring materials.
If the joint arrises are broken or the existing sealant has deteriorated and failed, then these joints should be cut out and repaired prior to applying the new resin floor. High strength epoxy resin mortars are usually the best materials for durable joint arris repairs, because of the high dynamic loads that can be imposed on the joints edges. The best type of replacement joint sealant is dependent on the type of material that was used for the failed existing joint sealant, i.e. different joint sealant types can be incompatible with the same or different joint sealing materials, which means that they will not bond with the previous sealant residue on the joint sides. This is a particular problem with old bituminous sealants in the joints that will require specialist removal and treatment.
Resin Flooring Site supply a full range of epoxy resin mortars that are ideally suited to repair joint arrises, together with a full range of floor joint sealants, based on all of the available joint sealing material types, including the very versatile floor joint sealant, Sikaflex PRO 3WF – a high performance, easily applied, chemically resistant, elastic, single pack, gun applied, polyurethane resin based floor joint sealant, which is great for solving a great many floor jointing problems. Please refer also to our Floor Joint Systems page.
For specific advice for the joint arris repairs or sealing the floor joints on your specific project please call any of our offices and one of our Resin Flooring specialists will be pleased to assist you.
We hope the information relating to your industry area and project is useful and of initial assistance. You are also welcome to call us for our FREE support at any time on: 01257 266696 Alternatively, you can email us technical@resinflooringsite.co.uk and we will get back to you just as soon as we can.