Automotive & Vehicle Manufacturing Plants
There are many different new and established small, medium, and large automotive, specialist vehicle and aircraft engine and component manufacturing plants, as well as the well-known major car manufacturer's production and assembly lines at plants all around the UK. Between them, the members of NCC's specialist resin flooring team have been involved in resin flooring solutions for most of them at some time over the last 30 years – Now that is what you call experience you can rely on!
The demands of the automotive industry can cover an incredibly wide range of requirements and challenges according to the functions and exposure in each area, which is why specific advice from our experienced resin flooring team can always help ensure the success of your resin floor project, as well as likely saving you time and money on every job!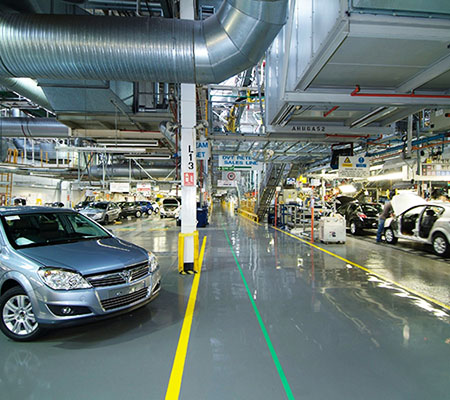 The demands on the floors in some automotive plant areas can be for some of the heaviest industrial uses, such as high mechanical impact and abrasion resistance, in engine and body shops; or high chemical resistance to withstand the exposure to fuel oils and hydraulic oils in other areas of these engine and transmission plants; through to resistance to concentrated acids in battery plants. This is as well as the provision of clean room conditions in precision electronic component production and assembly areas, together with ESD static conductive floors for control of sensitive electronic equipment, and the same ESD requirements in paint shops, but to prevent sparks with flammable liquids, or fine electrostatic powders being used, which can be equally flammable and dangerous in the event of a spark.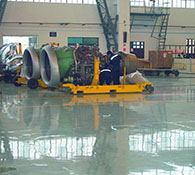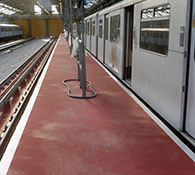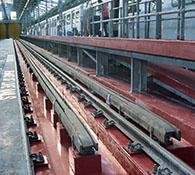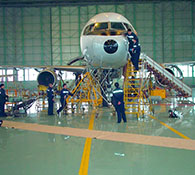 For all these demanding floor requirements in the automotive industry, take advantage of the NCC specialists and use their FREE expertise and experience. Simply contact NCC and discuss the specific floor requirements at your plant.
We hope this information relating to resin flooring for all types of automotive & vehicle facilities is of interest and initial assistance on your project.
You can call us for our additional FREE Automotive & other vehicle facility floor design and installation support at any time during office hours on 01257 266696
Alternatively, you can email us at: technical@resinflooringsite.co.uk. We will get back to you just as soon as we can.