Structural Movement & Expansion Joints
NCC is the exclusive UK & ROI Distributor & Technical Support Centre and nccmovementjoints.co.uk is the UK focussed website for the unique and 'State-of-the-Art' Emseal expansion movement joint sealing systems, which were originally developed and manufactured to meet the far higher extremes of buildings & civile engineering structures, their construction methods, vehicle loadings and traffic frequency, as well as the far more extreme weathering exposure in North America.
Emseal joint systems are available to allow the secure design and durable sealing of all types of structural movement and expansion joints, especially difficult wide and/or high movement capability expansion joints.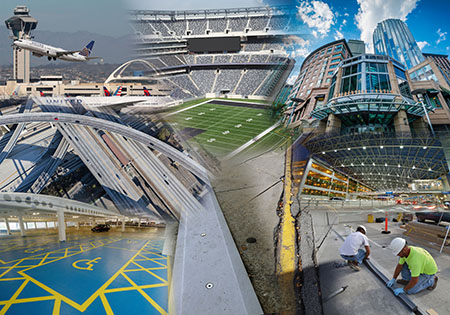 There are also Emseal solutions that are ideal for many other specific structural movement and expansion joints in both horizontal and vertical surfaces, and for many specialist applications and structures, in all types of buildings and civil engineering structures. The complete range of Emseal's composite joint sealing systems are supplied exclusively throughout the UK and Ireland by NCC, who also provide full technical support and service. This FREE Service includes detailed support for Owners and their professional architects and engineers in the selection and specification of the most suitable and cost-effective joint sealing systems and solutions. Plus detailed estimating advice, Method Statements, and installation training as appropriate for your project contractors. This also includes the supply of all necessary system components, accessories, and ancillary materials such as the structural epoxy adhesives, with no potentially damaging mechanical fixings being required for the unique and innovative Emseal solutions.
In this way we are with you all the way through your projects, from the design office, right through specification and detailing with FREE standard and bespoke CAD details, then onsite to ensure successful installation and completion. Our objective is to ensure your project success with optimum durability and a long service-life.
All NCC Group Companies throughout our focus specialist construction sectors of:
Resin flooring & coatings,
Bunding, primary & secondary containment linings,
Concrete repair & protection,
Structural & basement waterproofing,
Hard landscaping for paving jointing & resin bound finishes
- ALL now use the Emseal philosophy and the Emseal Checklist approach to successful structural expansion movement joints in both new construction and refurbishment or retrofitting projects.
A summary of this Emseal Checklist approach always helps to ensure the:
- Involvement & collaboration of all parties
- Creation of 3-D joint design & detailing (including Free Emseal CAD Services),
- Construction works are phased to facilitate joint installation
- Bespoke fabrication and trained installation of the selected Emseal solution
Emseal expansion joint solutions for multi-storey parking structures
n car parking structures there are often structural movement and expansion joint issues with concrete slabs and the building structure and / or substructure, which are a common cause of so-called failures and even referenced as the resin flooring / car park deck system 'failures', but which are in fact nothing to do with the resin flooring / car park deck waterproofing system. Any structural movement and expansion joints located through and/or adjacent parking structure decks, are potentially a major point of weakness, and where a lot of potential problems can start. Therefore this is also where the issues can be prevented and eliminated! If they are not correctly designed and adequately protected, any issues and problems relating to lateral water underflow and mechanical damage on parking decks, will often occur first at the deck movement joints with a breakdown of the arrises. Additionally, if the deck expansion joints not adequately designed to accommodate the thermal and other movement, or to prevent the ingress of water and aggressive chemicals, then failure is inevitable, it is just a question of time. So - Do it right first time, contact NCC and install specialist Emseal deck jointing systems – 'Watertight by Design'.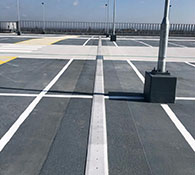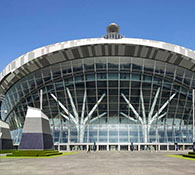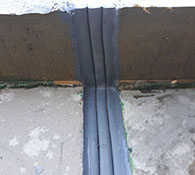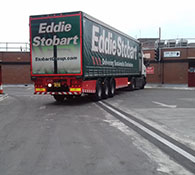 We hope the information relating to structural movement joints is of initial interest and for more detailed advice please refer to: http://nccmovementjoints.co.uk/index.html our sister company's UK focussed website for the unique and 'State-of-the-Art' Emseal expansion movement joint sealing systems.