Commercial & Retail Premises
The largest number of commercial premises are buildings with offices used by people and invited visitors for the administration and management of all kinds of industries and services for private or public business. These will be used to accommodate company functions and departments including IT and computing, customer services, HR and other specialist support people, as well as the management teams. The 'Retail' tag is generally added and applied to commercial premises that are used as shops or stores open to the public for just about everything, from food stores & supermarkets, to DIY & hardware, to domestic appliances & consumer electronics, and all types of clothing & accessories, plus numerous specialist stores, restaurants, and cafes etc. Traditionally all these different types of Commercial & Retail business premises have relied extensively on textile carpeting, unbonded linoleum or vinyl sheet / tiled flooring, as well as wood floors and ceramic tiles for those looking to create a more upmarket ambience.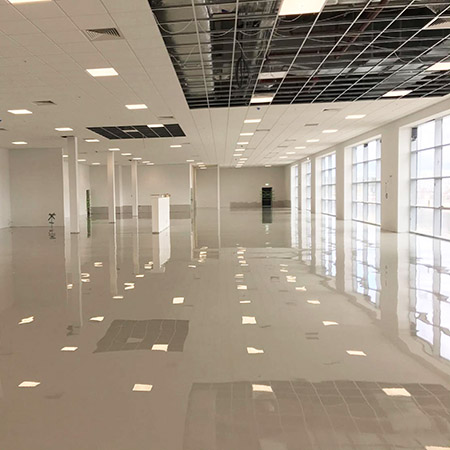 For floors subject to public access in larger areas and stores, the most cost effective and durable solution for many years was linoleum, which is also sustainable as it is based on natural raw materials, including linseed oil, with cork dust and wood flour, spread over flax (linseed) fabric backing, produced in sheets or tiles for floors. Linoleum was originally invented in 1859 by Frederick Walton, the name 'linoleum', derived from the Latin - "linum", from flax, the main ingredient, and "oleum", from the linseed oil. By the end of the 1860's, the floor covering was already popular and with new manufacturing processes and plants in the UK and America this effectively went global and widespread use began, the rest as they say is history. This changed after the second world war, with the rapid development of plastics and synthetic PVC (polyvinylchloride) as vinyl sheets, planks, and tiles, derived from petroleum, which has now widely replaced linoleum due to the much lower cost and wider range of colours that are possible, including simulated natural wood or ceramic finishes, as well as almost any other patterns and printed images. It should be said that linoleum has recently had a renaissance for domestic and high-end office premises despite the cost, due to its high resilience, low emissions, and overall sustainability, plus it is much more durable than vinyl and can easily last 25 years or more.
In recent years, increased focus on sustainability and ergonomics for people at work has also brought more focus on the resilience of floor coverings, for both comfort underfoot and the reduction of noise in the workplace to reduce footfall and other impact sound transmission. In turn this led to more state-of-the-art chemistry developments in flexible resin technologies, which now provide cost effective and yet exceptionally durable, resilient floor covering systems, including the so-called resin floor comfort systems. These have the resilience of sheet linoleum and vinyl flooring, with low emissions, reduced footfall noise, and this all achieved with an integrally fully bonded system. This gives the significant advantages over all types of sheet flooring system of eliminating the risk of lateral water underflow, and/or the possibility of any hidden growths of bacteria and other microorganisms in the event of any cuts or damage. Also unlike resilient linoleum and vinyl, these equally flexible resin floor covering systems will not get permanently dented and deformed by high heels and furniture legs etc., due to their permanent elasticity.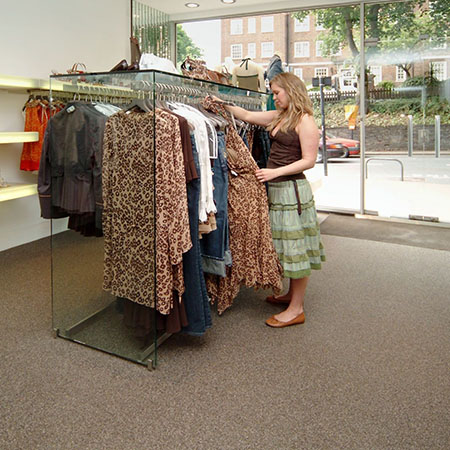 High performance resin comfort floors also known as a resin carpet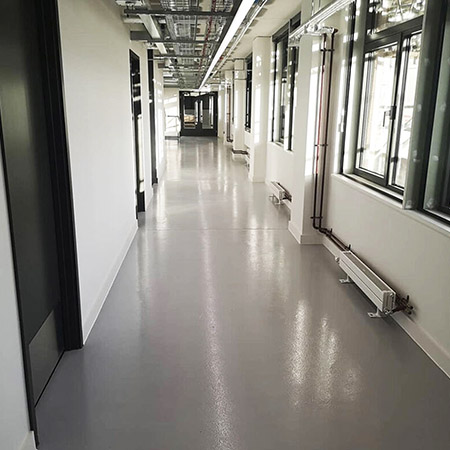 Slip resistant, crack-bridging resin comfort floors for corridors
In summary the advantages of these liquid applied flexible resin floors and resin comfort floors are:
During installation, the advantages are:
No time wasted cutting sheets / tiles to fit on site, plus no offcuts going to waste.
Easy installation to any area shapes with unlimited design and creativity.
No joints to be welded, otherwise sealed, or overlapped and bonded with adjacent sheets, and no joints in the seamless resin floor finishes at all.
No additional priming, levelling, waterproofing layers to be applied with extra works, required, as these are all an integral part of the system build-up.
No additional VOC emissions or fumes from solvents, welding flux, or special detailing adhesives etc.
Low VOC and low odour systems for minimal disruption and closure.
Easy colour demarcation and delineation of zones and areas with no joints.
For performance in service, the advantages are:
Waterproof & no risk of lateral water underflow in the event of cuts in the surface.
Seamless with no joints and no risk of hidden bacterial or microbiological growth.
Hygienic and easily cleaned surfaces.
Tough and resilient surfaces resistant to abrasion and scratching.
Sound absorbing to reduce footfall and other impact noise.
Increased comfort underfoot for walking and standing.
Slip and/or skid resistant to the required degree and profile (generally R9-12).
Systems for pedestrian and vehicular traffic areas with the same finish.
Statically crack-bridging as well as dynamically for movement and vibration etc.
Low VOC and particle emission in service, systems good indoor air quality.
UV light resistant, non-yellowing and lightfast systems.
Easy to refurbish and restore to new condition by simple overcoating for increased service life and sustainability with less waste and increased durability.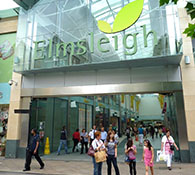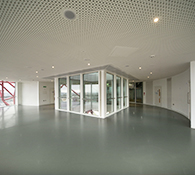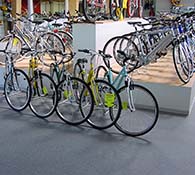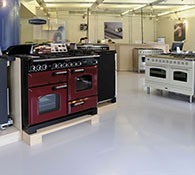 As a result of these developments, the new generations of flexible resin flooring and resin comfort floor systems are now the ideal floor finishing solution for almost every area of commercial and retail premises. This can include all areas from the main entrance and corridors, open plan offices and training rooms, shopping aisles and checkout tills, display areas and showrooms, packing and storage areas, plus the commercial kitchens and canteens, changing rooms and toilets. Resin Comfort Floors are therefore now the ideal solutions and real cost and performance alternatives to sheet flooring systems, for use in almost every area of most types of commercial premises and all kinds of retail stores. The specialist team at NCC can provide more advice and support for your specific commercial and retail flooring project, especially with the extensive range of comfort flooring systems from Conic and Sika who have pioneered many of these technologies.
We hope the information on commercial resin flooring solutions is of initial assistance. You can call us for our FREE support at any time during normal office hours on: 01257 266696 Alternatively, you can email us technical@resinflooringsite.co.uk and we will get back to you just as soon as we can.