Acrylic (MMA / PMMA) Resin Flooring Technologies
Acrylic resins are synthetic petrochemical products containing one or more derivatives of an acrylic ester and carboxylic acid, which are used extensively in the production of plastics, textiles adhesives and coatings throughout the world. The most common acrylic plastic in the UK is a Poly-Methyl-Meth-Acrylate (PMMA), also known as an Acrylic or just as MMA resin, which is primarily used to make translucent plastics. These include acrylic sheet products with many uses from signage to furniture and cabinets, cases, screens and decorative features, which are sold with brand names you may recognise such as Perspex and Plexiglas, plus there are also moulding and casting PMMA / MMA / acrylic resins you probably haven't heard of, like Lucite and Crystallite. These are used extensively to produce literally millions of different products and components in all industries and construction for all types of products from textiles to coatings, jewellery to doorknobs, car parts and many other construction products, fittings, and panels etc.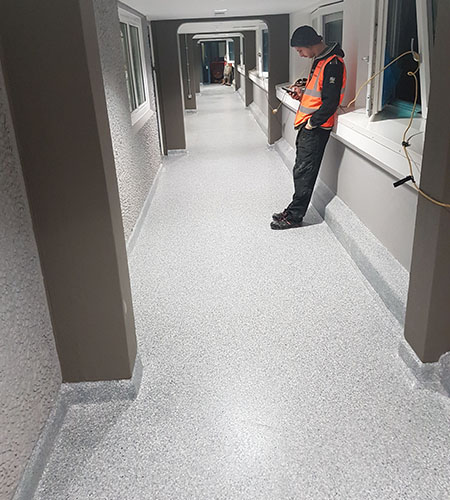 This 2-component PMMA based, acrylic resin technology is also adapted to produce high performance resin flooring systems, which specialist contractors often simply refer to as 'Acrylic resin' flooring systems, which all have the primary advantages of being fast curing and that can be used and harden quickly at extremely low temperatures. These materials were initially developed and used for emergency runway repair works on active airfields, especially military stations. The next development with this 2-part acrylic resin technology, was products that enabled damaged floor repair and levelling works in heavy duty cold stores which were still in service and at below freezing temperatures of at least -12°C. This new technology was gradually able to eliminate many cold store facility closures and excessive downtime, including the additional time and cost of raising the concrete floor and building temperatures up to normal ambient levels, thus enabling the use of traditional cement-based repairs, or 'normal fast-curing' epoxy or polyurethane resin products.
If you think that the high-performance characteristics of any of these special 2 component, solvent free, acrylic resin flooring systems may be advantageous for your project, particularly if you are the owners of cold stores and chiller rooms for fresh produce, please call 01257 266696 and one of our resin flooring specialists will be pleased to assist and advise you.
It is important that these high-performance, specialist applied, 2-part materials are not confused with the widely available and yet always inferior, 1-component acrylic floor paints that are available in every Builders Merchant, as well as online from all manners of sites, but which are not suitable for almost any commercial applications and will usually not last long on domestic ones – Remember - whatever it says on the tins, water and/or solvented 1-part, acrylic resin floor paints (even if it also says with 'Added-PU' – in the added 'Marketing Speak'. They all give poor results and next to no durability – To be Avoided – Unless you are selling / moving to new premises next week - and you don't like the new people…..!
To repeat, the modern generation of reactive 2-component, MMA / acrylic resin flooring systems are based on completely different technology to 1-component products, and these all have the primary advantages of being fast curing, and being used and hardening correctly at extremely low temperatures, even below freezing. Incidentally, with below freezing temperatures the biggest potential issue working with the acrylic resin products becomes avoiding ice crystals forming a debonding layer on the substrate surface.
There are two possible disadvantages of this technology. Firstly, in ambient temperatures the materials have a distinctive odour / smell, that whilst not harmful is not pleasant, and it can also taint sensitive materials such as dairy products when not deep frozen, and it is usually necessary to prevent people working in adjacent areas, though this is not an issue at below freezing temperatures. Secondly, the rapid curing and cross-linking also generates some shrinkage and surface tensions in the material, which requires that surface preparation must ensure a sound surface profile for adhesion, and all terminations must be adequately cut and 'toed-in' to prevent any uplifting stresses. All of which is no problem, provided this is all managed correctly by trained professionals.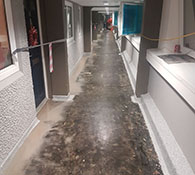 PMMA balcony walkway primed sealed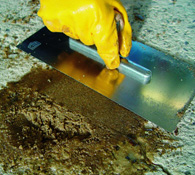 Emergency Floor repair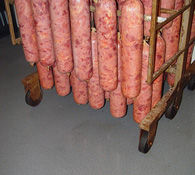 Acrylic resin Floor In Chiller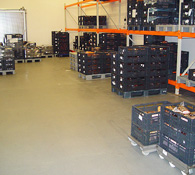 Acrylic Resin Floor in Cold Store
In recent years, further developments have been made to mitigate these disadvantages, and MMA resin technology is now utilised in other resin flooring applications, such as for exposed car park decks and balcony deck waterproofing / wearing surfaces, due to the inherent tough and flexible nature of the material and modern variants that can also be colour-fast and non-yellowing. At NCC we tend not to use acrylic resins for most standard works due to the afore-mentioned, potential issues in application, but we maintain good contacts and communication with the leading producers of these 2-part, PMMA / MMA / Acrylic resin flooring systems, so we are ready and prepared to propose and support their use when a project's requirements and site conditions make them the best choice e.g. for exposed car park deck waterproofing works during winter months. This is as well of course, as for repairs and resin floor refurbishment works in cold stores, chillers and freezer rooms, as in these specialist environments, the temperatures of the base concrete are often so low that they are effectively in a state of 'permafrost'.
If you think that the performance characteristics of these 2-component, solvent free, acrylic resin flooring systems may be advantageous for your project, please call 01257 266696 and one of our resin flooring specialists will be pleased to assist and advise you.