Comfort Floors
Comfort floors, cushioned resin floors or Liquid Vinyl flooring as it is sometimes known are generally seamless resin floors made up of layers of flexible polyurethane resin and installed directly onto a primed substrate, or a resilient rubber underlay. The base resin layers or other underlayment is used to provide the system with even higher elasticity and flexibility for footfall cushioning, comfort underfoot and noise reduction. They are increasingly popular in both public and facilities such as schools, hospitals and health centres, as well as in many different retail and commercial environments, from shops and show rooms, to leisure centres, bars and everyday modern offices.
Resin comfort floors are extremely hygienic, and very easy to clean given their smooth and resistant finish. There are a number of products and systems on the market from many different flooring manufacturers and the specialist at NCC Resin Flooring can help you make the right choice for your specific project – because every comfort floor is individual and designed specifically for you – and the people who will live, work or play in the area too of course!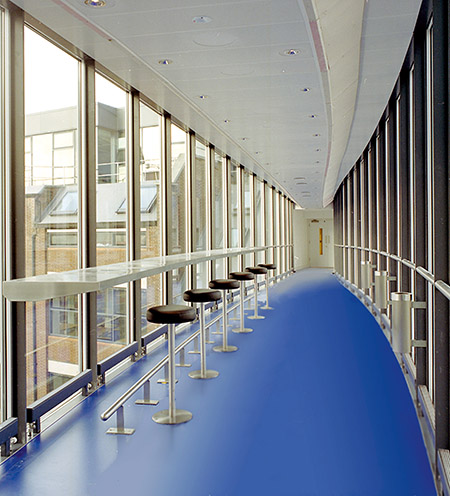 These resin Comfort Floors have really started to take off in the last few years, primarily because they are so versatile with all the benefits of being seamless and effectively allowing unlimited design in terms of colour, finishes and effects. The choice of colours, finishes and effects is absolutely huge, even mind-blowing to some people when they start to explore their design possibilities – Additionally resin comfort floors / liquid vinyl systems are ideal for use in conjunction with cost effective underfloor heating that also allows designers to remove ugly radiators and pipes from the indoor environment on their projects.
'Comfort flooring' or 'liquid vinyl' resin systems are generally a modified FeRFA Type 5 flow-applied resin floor system, comprising a primer, a flow-applied 'body coat', an optional surface sealer, which may also include a rubber underlay, it's adhesive and pore filler/primer as required. This type of resin flooring aims to offer the user the comfort properties typically only previously provided by cushion vinyl, without its clear disadvantages and the additional benefit of providing a seamless hygienic floor.
Comfort resin flooring is monolithically bonded to the substrate and therefore removes the need for welded joints. Resin flooring can also be overlaid at the end of its life-span, unlike vinyl, which needs to be removed and disposed of. Liquid Vinyl flooring can therefore now be used wherever a visual impact, with a warm comfort floor feel is required, to create an ideal environment and the desired internal ambience for people to work, rest and play.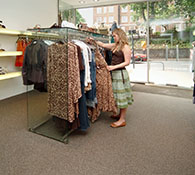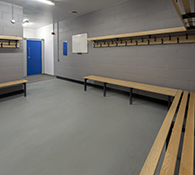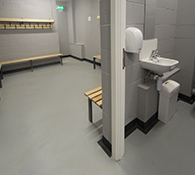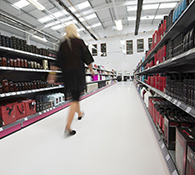 Comfort Floor Advantages
This type of comfort flooring with its sound deadening and flexible resin finish produces an ergonomically warm feel and the permanently elastic, wear-resistant surface in a durable long lasting floor. It is jointless even around columns and over large areas for maximum aesthetic freedom of design.
Comfort resin flooring is generally marketed with some or all of the following technical benefits over the more rigid FeRFA Type 5 resin flooring products:
Resilience (able to recoil / recover after stretching or being compressed) with enhanced flexibility
Reduced risk of cracking / crack-bridging capability
Reduced footfall noise and horizontal impact noise transmission
Enhanced impact accommodation and sound deadening
Warm feeling underfoot
Increased walking or standing comfort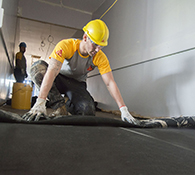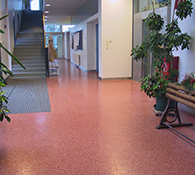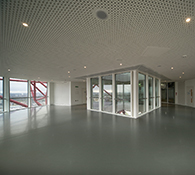 As always, NCC Resin Flooring works closely with the industry's leading resin comfort floor manufacturers, such as the Sika Group and Remmers to ensure that our experts can help you to achieve the design, high quality finish and durable floor that you require for your project. For more information and assistance on your comfort floor project please call any of our offices and one of our experts will be pleased to assist you.
We hope the information relating to your industry area and project is useful and of initial assistance. You are also welcome to call us for our FREE support at any time on: 01257 266696 Alternatively, you can email us technical@resinflooringsite.co.uk and we will get back to you just as soon as we can.