Cement-based Flooring
Whilst cement-based flooring is not usually thought of as a type of 'Resin flooring', most cement and cementitious floors today are heavily modified by the inclusion of a resin polymer in the mix. Once this was the occasional use of some 'white liquid' based on Styrene Butadiene Rubber (SBR), or a vinyl / styrene acrylate resin. Both worked as effective water reducers, with increased cohesion, reduced permeability and also increased the bond, especially the SBR, which was often referred to on site as magic sticky stuff! Today these are still used by tradesmen on smaller sites, but for larger projects and professional installation, floor screeds are usually prebatched with the 'resin' ingredient being included in the mix. Historically for many years, cement floor screeds were 'improved' by the addition of liquid polymers, initially with the same polymer mentioned previously, SBR – Styrene Butadiene Rubber, and then also by Styrene Acrylates and Vinyl Copolymers.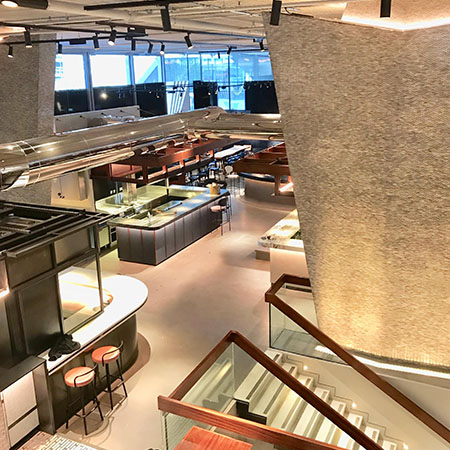 In liquid form the SBR additives were always considered to be the best and easiest on smaller sites, as the material itself is well - 'sticky', and in cement screeds and mortars the addition of the SBR polymer additive clearly increases adhesion, reduces water content, and increases strengths and produces waterproof mortars – All good stuff!
However on larger projects, and with ever more demanding time constraints today, these advantages are offset by the 50-80% water that is necessary in the liquid additive to use the polymer, taking time to dry, as well as the natural 'stickiness' also being a limiting factor for rapid screed application and finishing. It is also not possible to convert or use SBR as a freeze-dried polymer powder, but in these situations the limitations of the vinyl copolymers were less of an issue, especially when higher performance 'Melamine' vinyl copolymers arrived, originally from Sweden – yes a similar name to the white finish that is probably still on the inside of your kitchen cupboards – melamine is very durable as a cement additive too!
This new material was developed to be freeze-dried and blended in the dry powder mix during the 1990's, eliminating the excess water issue, whilst retaining the flow characteristics in application and the increased performance of the mortars. This was state-of-the-art for many years and these melamine vinyl copolymers are still widely used in many products for cement floor products and systems.
Further research in recent years, led to the development of polycarboxylate polymers that have revolutionised concrete admixtures and high-performance products for much of the concrete industry, from self-compacting concretes to ultra-high strength precast products. These polycarboxylate polymers also adapted very well to being freeze-dried, so using these materials has now taken the application characteristics and performance capabilities of cement floor screeds to a whole new level as well - if you will pardon the pun.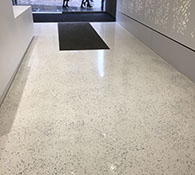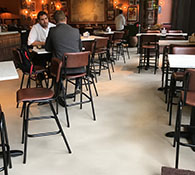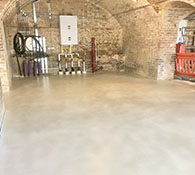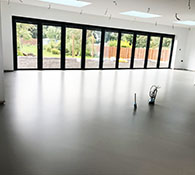 These are the high-performance systems that NCC now work with and supply with our specialist cement screed contractor partners around the UK, from our production partners DCP, Sika and Shonox. When you need a cement screed for a new or refurbishment project, NCC will work with your team to provide the optimum material selection and detailed specifications to meet your requirements. We will also introduce the right specialist contractors for your project location, size and system, to get your floors installed successfully and at the best possible price. The installation of cement-base floor screed systems today, requires the right product, the right contractor, and the right equipment. This is not just 'building work'!
Note: These cement-based systems do not provide a finished working surface like cement based dry-shake systems for finishing concrete floor slabs. Cement screeds are designed to provide levels and falls to drainage and provide a uniform substrate on new works, as well as being excellent for reprofiling existing floors before application of the new resin flooring. Therefore, it can also be common sense that cement screeds and any related cementitious underlayment's under the finishing's package on a project, be included, rather than under 'general contracting' but be considered under the specialist resin flooring umbrella.
We hope the information on this page and throughout this website relating to cement floors and underlayment's is of initial assistance. You can call us for FREE support at any time during normal office hours on:01257 266696 Alternatively, email us technical@resinflooringsite.co.uk and we will get back to you just as soon as we can.