Polyurethane (PU) Resin Flooring
Polyurethane Resin Flooring Systems or PU Resin Floors, as they are often called, are available in several different generic types: there are both one- and two-component materials, and these can both also include solvent-free, solvent dispersed, and water dispersed polyurethane (PU) resin flooring products.
At NCC our specialists recommend polyurethane resin flooring in several different industries and for many different applications. So in the following pages we have tried to give a summary of these PU materials and to review the main characteristics, performance properties and limitations in application for each type of polyurethane resin flooring products – and the typical uses for each of them.
As with other types of resin floor technologies, the 1-component types of PU resin flooring products will be used in thinner layers for BS 8204-6 resin floor types 1 to 4 and will generally be more suitable for sealing concrete floors and decorative floor finishes, but with only somewhat limited traffic or indeed other forms of stress and exposure.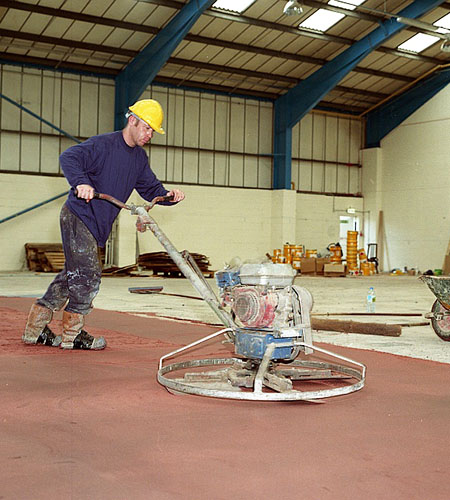 Whereas the thicker layers of 2-component PU resin flooring used for BS 8204-6 Types 6 and 8 trowel finished systems will always be the best solution for areas of high stress and exposure, and for floors where higher performance is required for every day working with the durability for a long service-life.
There is also concern raised in some places for the isocyanate content of polyurethane resins, though this is usually now only raised by resin flooring producers that do not manufacture polyurethanes as a thinly disguised 'dig' at their competition. This is now negligible in modern formulations with modern raw materials, formulations, and production processes, but for clarity we will try and explain this more fully for everyone here:
Polyurethane resins can be attacked by the manufacturers of other resin flooring technologies over the presence of isocyanates and their apparent threat to the health of the applicators. However, as NCC is fully independent from any manufacturer, we can look at these things objectively and select the best resin technologies and then the best formulated products within each technology, that can best meet the performance demands of our customers and their clients at the right price, plus the sustainability of each product and any limitations in handling to safeguard us all. Therefore in relation to this subject of polyurethanes and their isocyanate content, we can clarify that the small amounts of volatile substances found within one-component polyurethane resin flooring, and the even smaller amount of any possible free isocyanates, will all react immediately on exposure to any atmospheric humidity to become completely harmless substances. Additionally, the isocyanate groups of the pre-polymers used in resin flooring products are totally and fully bound into the product and will cause no harm to the users in the fresh or hardened states. Additionally, once PU resin floor systems have cured, any possible residual traces have reacted completely, and the final compounds are undoubtedly, completely isocyanate free. Hopefully that all makes sense – the key point is our conclusion that this is no longer a real issue and does not merit any additional steps or concern – If a PU product has the right performance we are also confident that it is safe to use and there is no need for any additional concern on this matter – It is the alternative resin manufacturers struggling to find issues to raise in the light of the superior performance of 2-compnent PU screed for example, which are used extensively in the food and beverage industries worldwide, including throughout health conscious Scandinavia and Switzerland if that helps boost your confidence! – A non-issue today!
One-component polyurethane (PU) flooring products:
The one-component (also called 'single pack'), polyurethane PU resin floor products have serious limitations, or are not of sufficiently good performance and durability for NCC to recommend them, for most resin floor coating applications, when compared with the now excellent water dispersed epoxy resin flooring products for example. Key reasons for this are that one-component, polyurethane PU resin floor materials are of relatively low mechanical strength, limited adhesion, and are particularly problematic to apply on many concrete and cementitious screed floors, due to their inherent moisture-sensitivity issues.
Additionally Buyer-Beware – Many of the so-called 'PU' or 'Added PU' resin floor paint products sold to the domestic and trade markets are not really based on polyurethane PU resin materials at all, but are cheap and lower performance acrylic and alkyd resins, blended with just asmall amount of 'marketing' polyurethane resin! Just read the labels in any Builders Merchants, or if searching online, download the MSDS (Material Safety Data Sheet) as well as the PDS (Product Data Sheet), where you can review what you are really going to get BEFORE BUYING THEM.
Do as you wish at your own home, BUT please DO NOT use these so-called and allegedly 'cheap' products for your clients and customers in any industrial or commercial flooring applications, as they are not anything like 'cheap' if you add in the cost of short life expectancy and the extra cost of trying to remove these thermoplastic materials from your customers floors, before having to apply a proven resin flooring product. For most light to medium applications, the right product today will most likely be a water dispersed, epoxy resin floor paint product, as despite needing to mix the 2-components with an electric drill, these are much easier to use, have no VOC's and will do the job properly with much better durability and longer service-life – NCC recommends to 'Get it Right First Time!'
Solvent Dispersed One-part Polyurethane Resin Flooring Systems:
As previously mentioned, solvent dispersed polyurethane resin floors can and do perform well in service, but they have all the same application difficulties and restrictions for their use as do the solvented epoxy resin flooring products. i.e. they necessarily include high levels of VOC's that are released into the internal air, which is potentially dangerous, or at best inconvenient; plus they will require extensive preparation for future maintenance and over-coating. Therefore, currently NCC do not recommend solvent dispersed polyurethane resin floors for most internal applications on floor although we regularly recommend and supply them for external applications in roofing as liquid applied membranes (LAM) and sometimes at NCC Streetscape for our hard landscaping busines, specifically for block paving sealing and protection or jointing sand stabilisation for example – You can see more information on these materials on our sister company's website: https://www.nccstreetscape.co.uk/paving-cleaning-sealing/paving-sealing-solutions.html
To restate our position for resin flooring, we DO NOT recommend any solvent dispersed, 1-component polyurethane resin floor coating systems indoors, which is for the many reasons as mentioned, though primarily now, because there are far better alternative systems available from our key suppliers on the market, which are less restrictive to use, and that will produce uniform results, despite the variable consistence and surface conditions of concrete slabs and industrial floors.
Two-component polyurethane (PU) resin flooring materials:
There are some ranges of two component, polyurethane (PU) resin flooring materials that are high build products classed as BS 8204-6 Types 1 to 4, and Type 5 SL systems which are also now the modern solvent-free type, due to solvent restrictions internally, and so these are generally high-performance systems, which have excellent wear and chemical resistance. These solvent-free, two-component, polyurethane flooring systems can need a surface pre-treatment or primer to ensure that they can achieve an excellent bond to dense substrates – In fact, these PU resin floor systems are typically used to create the state-of-the art Resin Comfort Floors. The primers most widely used for these PU systems on prepared concrete substrates, are clear, 2-component, highly penetrative, solvent free epoxy resin primers that penetrate and ensures adhesion of the PU resin comfort system build-up.
A key advantage of these 2-component, polyurethane resin comfort floors is that whilst producing a durable surface that is suitable for many different areas and applications, they also have a high degree of elasticity and crack bridging properties, which is flexible and resilient, for increased comfort underfoot, as well as reducing footfall noise across the floors. Another range of these systems build-ups are used as exposed car park deck waterproofing systems, because they are also UV-light resistant and non-yellowing in service.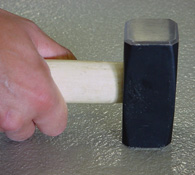 Tough Non-slip Resin Floors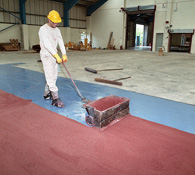 PU Screed Laying in Food Factory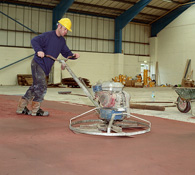 PU Screed with Power Float
Resin Floor Screeding
High Performance PU Resin Screed Materials:
However, the best known 2component polyurethane (PU) resin floor systems are the highly cement and aggregate filled, BS 8204-6 Types 6 and 8 trowel finished systems. These will always be the best solution for areas of high stress and exposure, such as in the food and beverage industries, in many different areas where the floors need higher performance and high resistance to mechanical impact and abrasion, aggressive chemicals and frequent high temperature steam cleaning, plus high durability for a long service-life. (not much expected then!!!)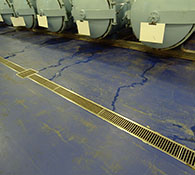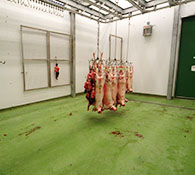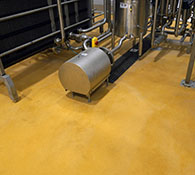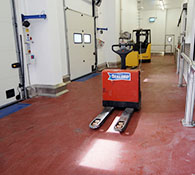 These really are the global 'Shire Horses' or 'Mercedes Truck' equivalents of the resin flooring world – And all around the world. The products and systems are normally applied at a nominal thickness of 4 to 6mm, or for very heavy-duty areas at 6 to 9 mm or more to produce the food industry trademark, heavy duty PU resin screed floors, that have high impact and abrasion resistance, excellent chemical resistance and high thermal shock resistance i.e. for chiller and freezer areas and areas requiring frequent steam cleaning for example. Another advantages of these PU screeds is their tolerance of damp substrates when being applied, which therefore also makes them ideal for essential maintenance, repairs and the upgrading of facilities which are still in production, as well as for new high performance resin floors on new construction projects.
If you would like additional advice and assistance with your specific PU screed floor project, please call 01257 266696 and one of our PU resin flooring specialists will be pleased to advise and assist you.