Garage Floors – Commercial & Domestic
Resin flooring is ideal for professional and DIY applications in all types of garages, both commercial and domestic, including garages for vehicle storage, servicing, and protection, which all tend to have similar requirements. These include resistance to the weight and traffic loadings from the car tyres, and importantly, there will also be abrasive stone chippings and other detritus picked-up from the roads on and in the tyres, as well as oils and water in summer, then de-icing salts in winter, which can also be picked-up and carried in and onto garage floors. Chemical resistance is also important, as even domestic garages can be subject to leaks or spillages of many different automotive fluids, from their fuels - petrol, diesel, and fuel performance additives (Redex & injector cleaners etc.), to brake fluids and other hydraulic oils, even battery acids, as well as the different types of engine coolant or anti-freeze, plus any of the huge range of car cleaning and polishing products on the market today.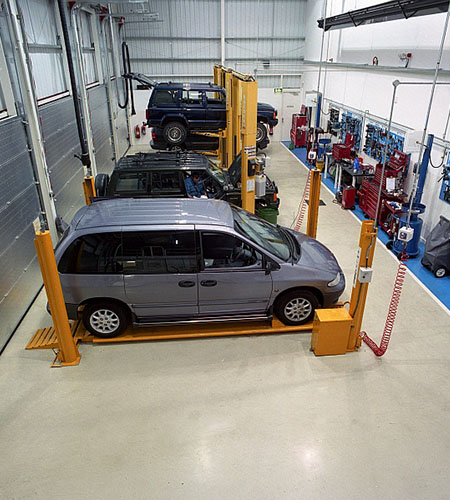 Any of these materials could leak or be spilled on garage floors, from standing vehicles in short or long-term storage, as well as from these product's packaging and containers themselves during storage (surprisingly common as apparently, we often forget to put the lids back on, or to put them back on properly!); in addition to leaks and spillages during the actual vehicle servicing and cleaning operations. Garage floors also need to be easily cleaned and to look good, plus according to their specific function or the function of each area or sections, there may be additional requirements for slip resistance and/or area demarcation by use of the floor colouring for example.
From this simple summary, all garage floors for commercial and domestic garages have significant performance demands and the floor finishes should always be selected to be able to meet all the floor's defined requirements. Importantly this means in both application and service, and where the ease, speed and cost of application must not compromise long-term performance and durability in service e.g. who wants to be repainting their garage floor every year or so…?
But Beware - This is exactly what happens when garage flooring is selected based on it being the easiest to apply e.g. with no mixing; or because it says 'Garage Floor Paint' on the tin; or even worse, and highly likely, if the product selection is left to your local builder – even those with good intentions, on-the-basis-of it being the cheapest tin of 'floor paint' at the local builders' merchant! None of these is ever going to be a good route to a durable commercial or domestic garage floor!
Unfortunately, there are still a great many manufacturers and websites that do persist in selling one-part / one-component floor paints, without mentioning all their inherent limitations clearly, though some do actually say something like "do not stand vehicles with hot tyres on the surface' …..suitable for a garage – Really!! …..Perhaps they think you will stop outside and wait until the tyres cool down sufficiently before putting your car in the garage – What planet are they from? – or is this just another clause inserted in case you or your client are lawyers….?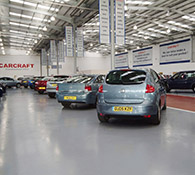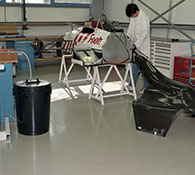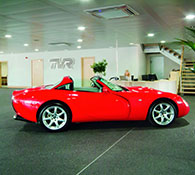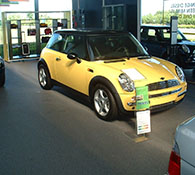 Resin Flooring Materials Application in Garages:
The best resin floor systems for use in garages are usually the BS 8204: Types 1 – 4 systems, meaning resin floor paints or coatings that are applied and built-up in layers to provide the ideal resin floor system. The resin floor technology for most garage floors will probably be based on epoxy resin technology, though pure polyurethane (PU) systems can also be suitable, provided the concrete surface is sufficiently porous and there is no residual moisture present, as this will cause PU coatings to delaminate from the surface. Note: Any 1-part tins of floor paint with 'added PU' on the labels should be avoided, as in reality, these are just cheap acrylic floor paints with added marketing – and inadequate performance!
For garage flooring projects with special requirements, such as an engine workshop with extremely high chemical resistance demands, then Vinyl Ester technology might be the most suitable; equally when time is strictly limited, then polyurea/polyaspartic resin technology can give the fastest hardening solution, with the minimum of waiting times before opening / re-opening and going into full service.
Additional considerations in selecting the best resin flooring solution for your project include the environmental conditions, especially the moisture content of the concrete and the substrate and ambient temperatures – Resin floor technologies and systems have different levels of moisture and humidity tolerances and temperature limitations for their application and hardening / curing. The concrete surface condition, cleaning and preparation is also important. Generally to ensure that a resin floor system can be successfully installed, the concrete surface should be clean and dry (<4% pbv water), with an open-textured, sandpaper-like surfaces. You can refer to the Floor Preparation page of this website for more detailed information and advice on this aspect for your project. A suitable damp-proof membrane should also be installed under the concrete floor, which for new build works is normal procedure and in accordance with standard building regulations. Otherwise, for existing floors and refurbishment projects this must always be checked, because if there is no membrane installed, then the resin floor system will need to be designed to accommodate this and / or be water vapour permeable, so that any trapped moisture can escape without blistering the new resin floor coating system.
We hope this information relating to resin flooring for all types of garages is of interest and initial assistance on your project. You can call us for our additional FREE floor design and installation support at any time during office hours on 01257 266696. Alternatively, you can email us at: technical@resinflooringsite.co.uk.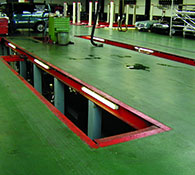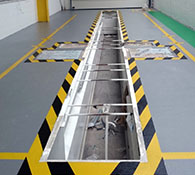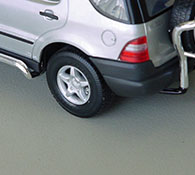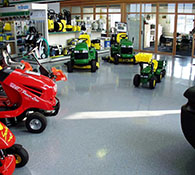 Warning: As briefly mentioned earlier, there are many inferior products marketed specifically as 'Garage' floor paints, which can be cheap and not so cheap (especially in the long term), which are based on single-pack / one-component Acrylic resins, and / or stated to be with 'Added PU' or 'PU Modified'. However in our independent and experienced professional opinion, NONE of these are at all suitable to provide a durable and long-lasting, good looking floor finish on any garage floors – Buyer Beware once again! – Please be sure to check your garage floor installation conditions and performance requirements very carefully. Only then can you select the right resin floor solution for your project to give YOU the right long-term service and minimum future maintenance or repainting cost/work to do in future.
For the best and most durable result on domestic garage floors, we will usually recommend a good quality, water-dispersed (solvent and VOC-free), coloured, epoxy resin-based, resin floor system, such as Remmers BS 3000 or Conifloor 500, which incidentally, are also the preferred resin floor solutions for major Commercial Garage Floors, which is another good indicator! These high-performance epoxy systems will generally give the best combination of application tolerance and durability for a reasonable cost. They will provide an extended service life and retain functionality with a good appearance, which is another important factor for commercial garages, where customer impressions count.
We hope this information is useful and of initial assistance. One of our specialists will be pleased to advise and assist you with specific advice on selecting and using the right garage floor solution for your project – big or small. Call for our FREE support at any time during normal office hours: 01257 266696 Alternatively, you can email us technical@resinflooringsite.co.uk and we will get back to you shortly.