Self Levelling (SL) Resin Floor Systems
These self-levelling resin floors are classified according to:
BS 8204-6 Resin Floor Types 5 and 7 - Flow Applied / Self-Levelling
These coloured, flow applied resin flooring BS 8204-6 Resin Floor Types are also known and more widely referred to as Self-Levelling (SL) systems, and sometimes more technically correctly as Self-Smoothing or Self-Smoothening resin floor systems. These are used to provide the most impervious, hygienic, and easily cleaned surfaces, and to produce highly chemically resistant resin floors, plus other special resin floor coverings and surfaces.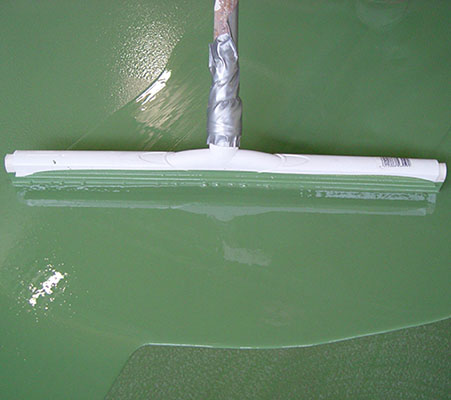 These include resin floors that are electrically conductive and static-dissipative, or crack-bridging and noise attenuating, such as the increasingly popular, flexible, resin flooring systems now known as Resin Comfort Floors. All these flow applied resin flooring systems are applied and built-up with one or more flow applied layer, with additional materials and layers according to the specific system requirements.
The resin flooring material is usually trowel or squeegee blade applied, although some can be sprayed, as a 'self-levelling' (SL) resin flooring systems, which are basically all flowable blends of reactive, multi-component, homogeneous mixtures of a synthetic resin and the fine inert fillers, special additives (flow, drying accelerators etc.), colour pigments, and any sand or fine aggregates, used to produce and stabilise this mixture on the surface. This mixture is flow applied as thin layer floor screed, usually onto a sealed / primed substrate surface (to prevent 'holidays' (holes!) and other issues such as blisters etc. This type of SL resin flooring are known as Resin Floor Types 5 and 7.
Case Studies – Types 5 & 7 Self-levelling Resin Flooring Systems
Self-smoothing resin floor systems are usually applied in at least 2 layers, sealing primer and then the top coat,; but can be described as a single layer system, when people do not include the primer, or consider this as part of the surface treatment – Usually marketing people! Other systems may require additional coats / layers to build-up special characteristics or performance, such as crack-bridging or slip and skid resistance etc.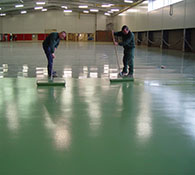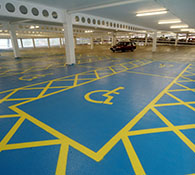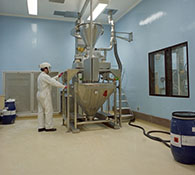 Resin Floor Types 5 and 7 are generally applied at thicknesses of from 3-6 mm in total, according to the floor system specification and site conditions, onto the prepared / sealed /primed concrete or cement screed substrate. Some products can be spray applied using airless spray techniques – but not the primers as mentioned previously, which must be worked into the substrate by brush or roller, to ensure a sealed surface. The resin layer is then 'spiked-rollered' whilst it is still 'wet', to remove any entrained air from mixing and trowelling. This surface can then either be left smooth, as an easy to clean, hygienic and decontaminable floor finish. Alternatively, it can be broadcast with fine graded sand or synthetic aggregates, with or without an additional sealer coat of a resin to encapsulate it, which is used to provide an increased level of slip or skid resistance, such as is frequently required in wet process areas, or parking decks for example. The typical requirements for Resin Floor Types 5 and 7 include most of the more 'Specialist' Resin Flooring Systems such as resin floor system that are completely seamless, ultra-hygienic, highly chemically resistant, decontaminable (e.g. nuclear), cleanroom floors (CRM), crack-bridging parking decks and the latest trend for high performance commercial and retail areas – the so-called Resin Comfort Floors.
As can be seen from this listing that is certainly not exhaustive, these types of performance demands are critical for many areas of different industries and facilities. These high performance characteristics of Resin Floor Types 5 and 7 - Flow Applied / Self-Levelling are the best solutions and have advantages for many different applications and critical areas of flooring in many different industries and facilities. As with resin floor paints and resin floor screeds, the best specific resin floor type, and the best resin technology for the SL resin floors will vary according to your specific project requirements. These different Resin Floor Technologies can include acrylic (PMMA), epoxy, polyurethane, polyurea/polyaspartic and/or vinyl ester resin flooring. You can follow this links to the pages of this website that discuss these alternative technologies, products and systems. This is all intended to provide more detailed information about each of these, together with their key performance characteristics and limitations, as well as advantages, for your review and consideration in relation to your projects. At NCC our experts are also available to assist you.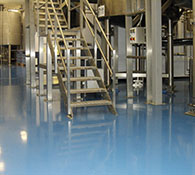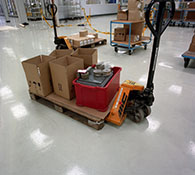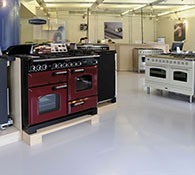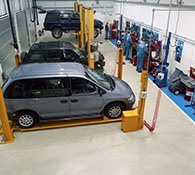 We hope the information relating to your area of interest area and projects is useful and of initial assistance. You can also call us for our FREE support at any time on: 01257 266696 Alternatively, you can email us technical@resinflooringsite.co.uk and we will get back to you just as soon as we can.