Drinking / Potable Water Resin Floor
There are many buildings and structures in the UK Water Industry, and also in the growing number of fish farms and other facilities where the hardened concrete floor and wall surfaces are in contact with drinking water and/or water that sustains aquatic life. These structures include drinking water holding and storage tanks and treatment plants, as well as in all types of aquatic life facilities from major aquariums and aquatic centres, to the increasing number of fish farms together with shellfish storage and preparation tanks, plus a rapidly developing hydroponics and aquaculture industry. The exposed surfaces of floors and walls in these reinforced concrete structures, need protection to stop water ingress to the structure itself, where it could instigate corrosion of steel reinforcement, as well as to protect the concrete surfaces from attack by soft water, salt water or the frequent cleaning and disinfection procedures in between batches / cultures etc.
One of the easiest and best ways to do this is with resin flooring technologies and associated resin wall finishes for the vertical surfaces. Cost effective epoxy resin based high build, high abrasion and chemically resistant systems can also be suitable for use in contact with potable water - Sikagard 62 for example and DWI approved for contact with drinking water or foodstuffs - which means it is also safe in contact with aquatic life once cured.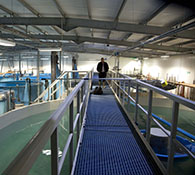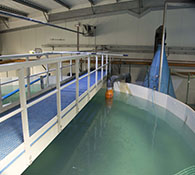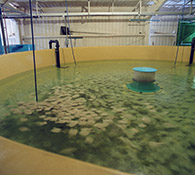 We hope the information on this page and throughout this website is of initial assistance. You can call us for our FREE support at any time during normal office hours on: 01257 266696 Alternatively, email us technical@resinflooringsite.co.uk and we will get back to you just as soon as we can.