Automotive & Vehicle
Automotive & Vehicle Production, Service & Storage – An introduction
Automotive and almost all other vehicles from cars and trucks, to buses, trams, trains, and aircraft are produced in manufacturing plants with increasingly similar requirements for their flooring. Once again resin flooring systems are ideally suited to meet almost all these demands, and can do so quickly, and in a cost-effective way for these cost-conscious, 'just-in-time' producers. In all areas of vehicle production today, and for all types of vehicles, time is money, and the plant budgets are always as tight as their schedules for new models and production lines to be set-up and come on stream. This is our world, and we fully understand how to identify, consider and focus on the key objectives for the floors, the programme, and of course the budget.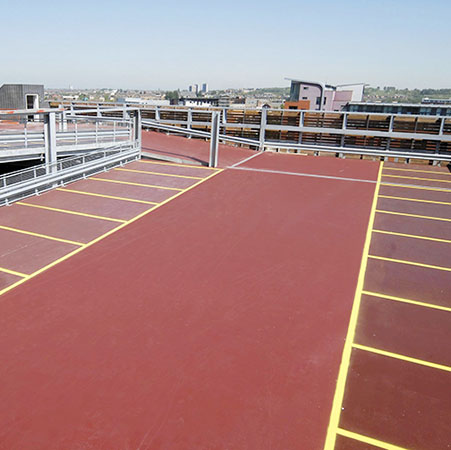 The resin flooring experts from NCC will always effectively value engineer the best flooring solution for your project, be it for the production areas, garages, sheds, docks, or hangars, or for your servicing workshops, inspection pits, and facilities for all types of vehicle maintenance.
NCC resin flooring specialists are not only experienced inside vehicle production facilities, but also outside, where they can also help and support you with deck waterproofing systems on car parking structure's Car Parks – Multi-Storey Parking Decks, page, and even to ensure durability and a long service-life for concrete block and natural stone cobble paved areas of hard standing from parking lots to airfield pavement's Hard Landscaping page.
Wherever you look in the Automotive industry from vehicle production to servicing, maintenance and parking, you can check-out the free advice and information on each of the relevant pages on this website for your project, just follow the links, tabs and dropdown menus for your………
Automotive & Vehicle Manufacturing Plants page - Resin Floors for Automotive & other Vehicle Production & Assembly Plants (Cars, Vans, Trucks, Specialist Vehicles, Trains, Boats & Planes)
Garage Floors – Commercial & Domestic - Resin Floors for Garages & Workshops, Test-Centres, Showrooms & Other Vehicle Workshops, Stations, Docks & Hangars.
Car Parks – Multi-Storey Parking Decks - Resin Floors & deck Waterproofing for Multi-Storey Car Parks (MSCP) & related Parking Structures, including the externally exposed Parking Decks and Access Ramps
We hope this information relating to resin flooring for all types of automotive & other types of vehicle production and service facilities is of interest and initial assistance on your project. You can call us for our additional FREE Automotive & other vehicle facility floor design and installation support at any time during office hours on 01257 266696. Alternatively, you can email us at: technical@resinflooringsite.co.uk. We will get back to you just as soon as we can.