Resin Floor Standards & Specifications
Unfortunately, there are currently no universally agreed European or International Standards, Materials Classifications, Specifications or Performance Requirements for Resin Flooring Products and Systems.
There is however the Code of Practise produced by British Standards in 2001, updated in 2008 and again in 2010 as a basis for a draft European Standard that never happened as France and Germany could not agree. BUT – Our opinion at NCC is that this document made a good basis in most areas in our opinion and the UK and many other countries and organisations such as FeRFA, still use and refer to this as the best available basis for resin floors classification. To give it the correct full name this is:
British Standard BS 8204 Screeds, bases and in situ floorings - Part 6: Synthetic Resin Floorings - Code of practice 2010: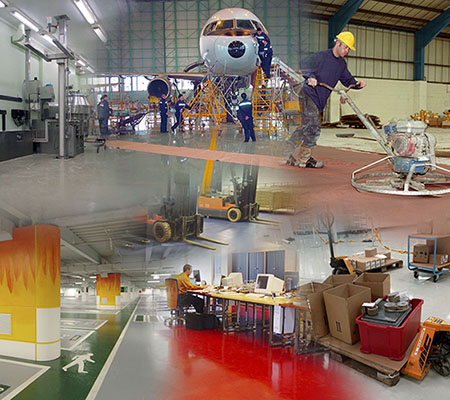 'Recommendations for the design and installation of internally used in situ synthetic resin flooring, where they are bonded to direct finished concrete slabs, fine concrete screeds and to existing concrete floors are given. The flooring is available in a wide range of thicknesses from thin floor seals to heavy-duty industrial protective coatings which can provide a seamless surface with greatly enhanced performance compared with the concrete base on which it is applied'.
A summary of the main resin floor classifications according to this standard and covering the different types of synthetic resin flooring is included below.
Classification of Synthetic Resin Flooring Types to BS 8204-6:2008
Synthetic resin flooring products and systems can be divided into different 'Types' according to their system thickness and build-up as follows:
| | | | | |
| --- | --- | --- | --- | --- |
| TYPE | NAME | DESCRIPTION | USE | THICKNESS |
| 1 | Floor seal | Applied in two or more coats. Generally solvented or water dispersed. | LD | Up to 150 microns |
| 2 | Floor coating | Applied in two or more coats. Generally solvent-free | LD / MD | 150 to 300 microns |
| 3 | High build floor coating | Applied in two or more coats. Generally solvent-free. | MD | 300 to 1000 microns (1mm) |
| 4 | Multi-layer flooring | Aggregate blinded systems based on multiple layers of floor coatings or flow-applied flooring products, often described as 'broadcast sandwich' systems. | MD / HD | > 2 mm |
| 5 | Flow applied flooring | Often referred to as 'self-smoothing' or 'self-levelling' resin flooring. Generally with a smooth surface, but can also be broadcast. | MD / HD | 2 to 3 mm |
| 6 | Resin screed flooring | Trowel applied, heavily filled resin screed systems. May include a surface seal coat to minimize porosity | MD / HD | > 4 mm |
| 7 | Heavy duty flowable flooring | Similar in nature and application to Type 4, but thicker and generally having a smooth surface. | HD / VHD | 4 to 6 mm |
| 8 | Heavy duty Resin flooring | Trowel applied and finished, aggregate filled systems effectively impervious throughout their thickness. | VHD | > 6 mm |
| | | |
| --- | --- | --- |
| | LD (Light duty) | Light foot traffic, occasional rubber tyre vehicles |
| | MD (Medium duty) | Regular foot traffic, frequent forklift traffic, occasional hard plastic-wheeled trolleys |
| | HD (Heavy duty) | Constant forklift traffic, hard plastic wheeled trolleys, some impact |
| | VHD (Very heavy duty) | Severe heavily loaded traffic and impact |
Criteria for the Right Resin Floor System Selection
In developing resin flooring standards and specifications for each project, there are important technical criteria to be considered right at the beginning. Only once this evaluation has been completed, and as a cautionary note: this is not always easy, plus it can take some time to investigate and obtain all the necessary information; can the most appropriate resin flooring specification be produced, and then the appropriate resin floor standards can be applied.
These initial evaluation criteria can and will include many different market and industry specific demands that must be met, but for all resin flooring projects there are certain criteria that will always need to be considered. These key criteria include:
Substructure and substrate:
What is the structural substructure and concrete slab design and build-up? Resin flooring must only be laid over a suitably load bearing structural concrete base slab that is able to support the static and dynamic loadings to be imposed throughout the construction process and in service. The actual substrate for the resin flooring system will usually be a monolithic concrete or cement-based screed, which is then prepared according to the requirements of the resin flooring system, in terms of the required strengths, permeability, moisture content and cleanliness etc. Not all types of resin flooring have the same requirements, in fact they can be quite different, even diametrically opposed e.g. wet or dry for example.
Surface condition and preparation: What is the substrate and its surface condition, and therefore what substrate preparation is required? The condition of both new and existing concrete slabs determines the extent and nature of the surface cleaning and preparation that is required to ensure successful installation of the selected resin floor system / solution. A resin flooring system requires all dirt and contaminants, such as any oil and grease to be removed, to ensure the resin will bond to the cementitious substrate. It is equally important that any loose or friable particles must be removed and the surface prepared by mechanical means (from wire brushing to blastcleaning to scabbling etc.) to have a clean, sound and open textured surface with strengths, permeability and moisture content suitable for the selected / specified resin flooring system.
Impact and abrasion resistance: What levels of impact and abrasion will the floor surfaces be exposed to during the construction process and then in normal service and any special situations e.g. machine installations or decommissioning etc.? This aspect is sometimes overlooked, as it is not only important to look at heavy vehicles and the main process loadings, but also any other types of traffic from pedestrians to different types of vehicles, frequent and infrequent to assess the impact on the floor. Traffic type, loading and frequency, can obviously have a strong influence on selecting the most appropriate resin flooring system, as well as the build-up that is required for an installation that will perform for the intended service life, including the possibilities and likelihood of any future repairs and maintenance. All of which will also impact on the resin floors sustainability and life cycle costing.
Chemical Resistance: The first question regarding the required chemical exposure and resistance of a resin floor system, is to define if the area is usually a wet area, or if it is primarily a dry area with only the occasional potential for liquid exposure or chemical spillages? This is followed by asking how much water is to be used not just in the main process, but also for all necessary cleaning procedures etc., plus exactly what specific chemicals are used and/or could be spilled in the area? This is always a key consideration in any areas where aggressive liquids and corrosive substances are used, handled, or stored. Additionally, any wet areas will also require special treatment of any joints, channels, drainage, and coving details etc., to ensure they are all securely sealed, and with no risk of lateral underflow.
Hygienic and Easy to Clean surfaces: An increasingly key consideration in many projects, is for the floor to be hygienic, dust-free, and easy to clean, and not just in the main process areas. As a result, this criterion is now key for the floor substructure design, floor finish selection and detailing, to ensure compliance with the necessary hygiene, cleaning, dust- and particle-free standards for many industries. Nowadays this is not just for the obvious food and beverage producers, or the pharmaceutical and cosmetics sectors, but also these standards of hygiene and even so-called 'Clean room' conditions that are now demanded for many other industries. These range widely from electronics, automotive and other production, processing, assembly and storage facilities in many sectors, including those such as medical, educational and leisure facilities with a need for frequent cleaning, decontamination and also for the flooring to be able to allow and ensure the necessary strict levels of cleaning to maintain these hygienic conditions.
Fire Resistance & behaviour in fire: In the modern world it is essential for almost any occupied buildings and facilities to only use internal floor coverings that have been fully assessed to ensure that they are safe and have the right degree of fire resistance and an appropriate behaviour in the event of a fire e.g. to prevent the spread of fire and in the event of a fire to prevent the release of toxic fumes etc. This must be formerly tested and assessed by specialist technical institutes, which then issue the results and make the required approvals and certification for each different resin flooring solution according to the fire resistance requirements in each type of area and facility.
Slip Resistance / Skid Resistance: The requirement to minimize slips, trips and falls is an important consideration for any workplace or areas with public access, plus anywhere that cars, or any other types of vehicles are used, skid resistance is equally important. The Slip / Skid Resistance requirements of each area are therefore important to consider in some depth. The degree of resistance to slipping/skidding is dependent on the type of area, the surface environment and use i.e. is the floor normally wet or dry in service? What type, frequency of spillages can occur, plus when and how are these removed? What type and frequency of foot/pedestrian traffic, and/or wheeled/vehicular traffic is there that uses and traverses the floor area? Does foot / vehicle traffic use specifically designated walkways / designated lanes? Is this a pubic area with open access, or is there more limited/controlled access? How are the floor surfaces to be cleaned in normal service?
Clearly there are always going to be a lot of things that must be included in the assessment of the resistance required and this is not a Yes/No decision. It is important for full understanding of what is required at a very local area, in fact there may well be several different levels of resistance for different areas and sections of a project – For example in a simply multi-storey car park, there are very different demands for the slip and skid resistance on access ramps, in the designated driving lanes and different again in the parking bays themselves. This is no problem, but must be pre-planned and correctly detailed as there are also significant cost implications in doing this correctly, but potentially with much higher costs for not getting this right if you are the responsible owner, specifier and contractor. In all situations the degree of slip/skid resistance required will always need to be balanced with the ease of cleaning with both capabilities balanced for safety and cost.
There are several standards and methods of assessing and confirming slip / skid resistance and these are covered in more detail elsewhere on this website 'Self-Levelling (SL) Resin Floor Systems' page.
According to your project requirements the best resin flooring solution for you will be one of the following and you can follow the links below to see more detailed information as well as throughout the rest of this website which is designed to help you make the right decisions for the right type of resin flooring, using the right resin flooring technologies and the right products and system build-ups to meet your needs.
As stated above and in the table according to the British Standard these will be:
We hope this information is of interest and useful for your resin flooring and if you need more assistance then please just let us know. You can call us for FREE support during office hours at 01257 266696 Alternatively, email us to technical@resinflooringsite.co.uk and we will get back to you just as soon as we can.