Anti-Slip & Anti-Skid Resin Floors
For Pedestrians: Anti-Slip resin floors, also called Non-Slip resin floors are an efficient and cost-effective solution to provide an anti-slip or non-slip, slip resistant surface in a great many pedestrian access areas, especially in commercial premises and manufacturing process areas.
For Vehicles: Anti-Skid resin floors, also called Non-Skid resin floors are equally an efficient and cost-effective solution to provide an ant-skid, non-skid, skid resistant, trafficable floor surface in a great many different traffic routes and vehicular access areas, especially wet process areas in manufacturing facilities etc.
HSE Advice: In their advisory documents the UK Health & Safety Executive (HSE) says: 'Slips and trips are the most common cause of major injuries at work. Around 90% of these are broken bones. The costs to industry are substantial (over £500 million per year) and there is incalculable human cost and suffering to those injured. Floor cleaning is significant in causing slip and trip accidents."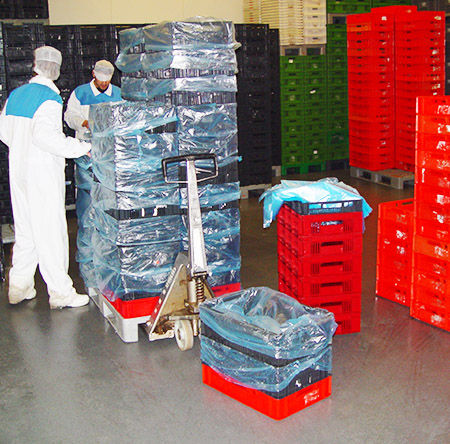 Note: At the bottom of this page we have made the latest advice from the HSE available to view and / or download for free. You can also check for any additional advice and updates here: https://www.hse.gov.uk/slips/information.html
It is also useful to note early on in any floor finish specification and floor cleaning discussions, that legal actions following an injury can be extremely costly, disruptive and damaging to any business, especially where the public is involved. Insurance will only ever cover a small part of the cost, but early and effective solutions are often simple, relatively inexpensive, plus improved floor finishes and more efficient cleaning regimes can often lead to other workplace and business benefits.
In both new buildings and in refurbishment works, the most effective approach is to identify the problem areas as soon as possible, then to try and ensure that potential slip and trip hazards are designed out as early as possible. The selection of the right flooring and floor finishes and detailing solutions are always of critical importance in reducing slips, trips, and skidding, as well as in determining the cleaning regime required to maintain this slip and / or skid resistance capability. Non-slip resin floors are the most functional, modern, and state-of-the-art solutions, plus they are also frequently the most cost-effective as well.
If you need reliable advice and a durable solution for providing a non-slip / anti-slip / anti-skid / slip or skid resistant (whichever way you want to say it!) floor finish, in almost all and any types of buildings and facilities today, from floor areas industrial manufacturing and processing plants, to product packaging, logistics and distribution facilities, to everyday retail areas, commercial and residential premises, even specific leisure facilities such as stadiums and sports halls then NCC will have a resin floor solution that is ideal for your project. Just call and ask for our Free advice and assistance, right from initial design through to the completed installation, whatever the additional demands, and in whatever environment – Ask the NCC resin floor specialists on: 01257 266696 Alternatively, you can email us technical@resinflooringsite.co.uk
Slip / Skid Resistance Factors for Resin Flooring:
To provide a little more technical information for your initial assessment, there is unfortunately no universal panacea, and therefore no such thing as a completely 'Non-Slip Resin Floor', nor a completely 'Slip Resistant Resin Floor', because the 'Slip Resistance' of a floor is always a combination of several factors, including:
The profile of the floor
The slope of the floor
The type of footwear or tyres
The materials or spillages on the floor (& the cleaning regime)
The spillage displacement volume of the floor (i.e. profile related)
The speed of vehicles or pedestrians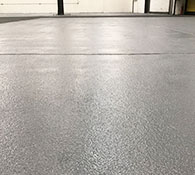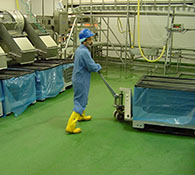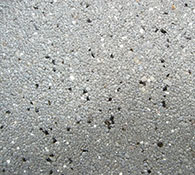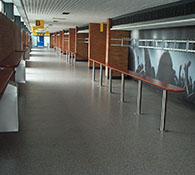 Slip Resistance & Skid Resistance Tests for All Types of Flooring
Unfortunately, there are no universally agreed tests or specific standard classifications for slip resistance, and / or skid resistance, of resin flooring systems. However, there are many different tests and classifications that can be used to measure the slip resistance of any specific floor surface, especially where this is required for legal 'safety' reasons e.g. usually these are done after 'an event' in order to determine liability!
Equally unfortunately, many of these tests and standards are complex and / or not fully understood, so they are frequently used and abused, or performance is assumed, rather than the specific requirements for slip resistance being professionally considered in advance, as it would be for chemical resistance or abrasion resistance for example. The biggest failing, and the one that we see a great deal of in the UK, is the tendency for tile and sheet flooring manufacturers to give a specific slip resistance, generally given as an 'R-rating' for their flooring products. However, they fail to understand or make clear that this slip resistance R-value is the result from testing in dry conditions and with no oil or grease spillages i.e. this result will not necessarily be true in the real world. A flooring product (tiles, vinyl sheets or resin finishes) may be sold as having a Slip Resistance of say R9 to R11, which maybe fine in dry indoor conditions, but with these R-values the surface is pretty well guaranteed to be slippery when wet or where oil or grease is spilled!
The use of these R-ratings derives from the German Standard DIN 51330, which also includes a summary of the required levels of slip resistance that are typically required for floors to be suitable for use in different specific industries and areas. This rating in this standard is stated in terms of the surface slipperiness (R Value) and sometimes also the more useful, spillage displacement volume (V value).
The alternative slip resistance standards and testing procedures, often linked to specific testing equipment, such as the so-called 'Pendulum Test' giving results in PTV's (yes – pendulum test values), are currently available with many different, and sometimes competing, test and procedures from the UK, Germany, France, Italy, Spain (all the big tile makers you note!) and from North America. There are standards with both laboratory and on-site tests and testing equipment. Unfortunately, these slip resistance standards all have limitations and perceived problems or inefficiencies. Therefore to date none of them has even been agreed upon to form the basis of a new European (EN), and therefore, also no global or Internationally agreed (ISO) Quality Standard for slip resistant flooring.
If you would like more guidance on slip resistant floors, then full details of the currently available tests and standards is given in the various UK HSE published Information Sheets below, some of which date back to 2005 but are all still relevant and constitute the latest UK Guidelines – See below - Good luck!
In terms of the available standards, our experts consider that the German Standard is probably the most useful, provided it is understood and correctly applied in practice, as a guide. Fortunately, a few years ago, a useful and practical guide to this standard was produced in English by one of our resin flooring manufacturers (Remmers), and so we have also made this available to view or download from this website - see below. NCC's resin flooring experts can assist and support you to produce detailed recommendations on slip resistance requirements and the correct classifications and materials selection and specifications for your individual project and the different areas involved.
You can also refer to the Case Studies - Slip and/or Skid Resistance section of this website for recently complete resin flooring projects around the UK and elsewhere, where skid and/or slip-resistance was a specific requirement.
Non-Slip Resin Flooring is Common Sense:
Another very import consideration and possibly the most important aspect for slip resistance of resin flooring is good old 'Common Sense'. Indeed in most situations, by Common Law in the UK, slip resistance is generally regarded as a matter of common sense and therefore everyone involved should take care and responsibility to reduce the potential risk of any slip hazards i.e. for owners and employers to provide or recommend suitable footwear or tyres; plus to give clear notification of any risk and to make all users of any given area aware of these risks. For anyone in an area where they have been advised or should reasonably expect floor slipperiness to be an issue e.g. in wet entrance areas and / or shop and other facility floors, they are individually required to take care and responsibility to act appropriately. – A whole lot of legal speak from the countless successful and unsuccessful claims for slips, trips and falls every year – Generally only the lawyers get rich and so are best avoided by taking the right resin floor design, specification, installation, and cleaning decisions.
In practise this means that it is necessary to provide a degree of slip resistance on the floor that is appropriate to that area's specific environment; plus to ensure that any finished floor treatments, such as the cleaning and / or any polishing regimes, are appropriate. Finally of course, it is obviously important to have written procedures and practical steps and responsibilities in place to ensure that any spillages on the floors are quickly and thoroughly cleaned up appropriately. The specialists from NCC resin flooring will help you to do this successful for a stress-free flooring future!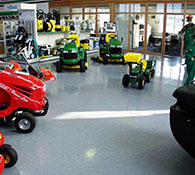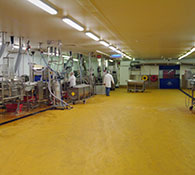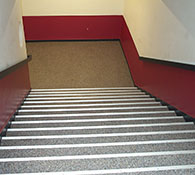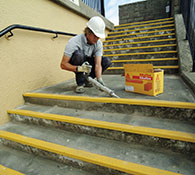 How to Achieve Slip Resistant Profiles for Resin Floors
A non-slip floor surface that is suitable for any given indoor, and for some outdoor, (e.g. exposed Car Park Decks), industrial, public, or commercial floor area is usually best achieved by creating a defined level of slip resistant profile in the selected resin floor system build-up. This can be integral with the finish, or more usually achieved by using broadcast or incorporated specially graded sands, or synthetic aggregates such as hardened glass or polypropylene beads. This establishes a uniform surface profile that is sufficiently 'profiled' or textured to increase the slip or skid-resistance to the desired degree. The floor is also still sealed and impervious, and the defined profile is effectively also sufficiently smooth to prevent creation of a dangerously rough and abrasive surface, plus this sealed profile allows easy cleaning in locations that are frequently used in wet conditions, or where spillages can occur on the floor. The selection of the most suitable type, size and grading of the broadcast aggregates is a specialist consideration as the individual aggregate particles must also be firmly and adequately held in position by the resin binder, whilst ensuring that the surface seal is maintained, and the slip resistance not negated by easy removal of the aggregates under the traffic that is anticipated – both foot and or vehicular traffic. This is a more technical issue than may seem apparent, plus it is also a decision requiring practical experience and a full understanding of the proposed non-slip resin floor materials and the areas specified requirements and standards.
The resin flooring specialists in any of our offices are available to help you make the right decisions for your non-slip resin flooring requirements. Please call any of our offices and they will be pleased to provide detailed recommendations for your specific project.
Available HSE & Related Guides for Slip Resistant Resin Flooring
We hope this information relating to slip resistant resin flooring is of interest and initial assistance on your project. You can call us for our additional FREE resin floor design and installation support at any time during office hours on 01257 266696. Alternatively, you can email us at: technical@resinflooringsite.co.uk We will get back to you just as soon as we can.