Solvent Free Epoxy Resin Floor Systems
Solvent-free epoxy resin flooring materials contain no solvents or water as diluents to carry and / or disperse the solid resin, and therefore they are also termed as being '100% solids.' These products are formulated consisting solely of the epoxy resin base and hardener, together with the necessary colour pigments, fillers and any other special ingredients that are designed to flow initially after mixing, (e.g. self-levelling or self-smoothening behaviour), then to react and cross-link forming a high build, dense, vapour-tight, and extremely watertight film when cured. This means that solvent-free epoxy resin flooring products have a much higher epoxy resin content than any water or solvent dispersed products, which explains their increased cost, plus they can also be used in much thicker layers and will therefore also provide higher performance and protection for the floor.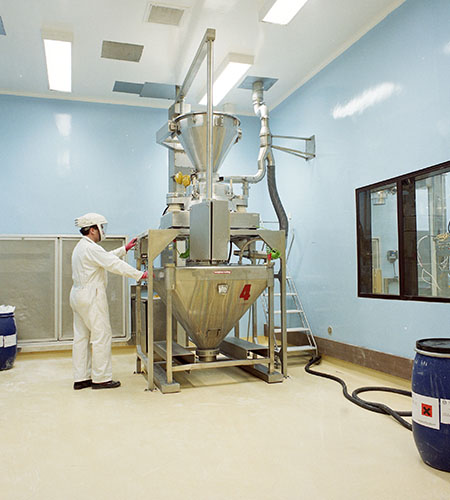 Unfortunately, perhaps the one disadvantage is the higher cost as a consequence of this much higher epoxy resin content, meaning that combined with their higher film / layer thicknesses, solvent-free epoxy flooring products are generally much more expensive and are generally only used for professional, specialist applied resin flooring projects. This is also why most solvent free epoxy resin products are designed for use in areas with more demanding and higher performance requirements e.g. in manufacturing process and production areas with increased traffic, mechanical abrasion, or liquid chemical exposure for example.
NCC provides specialist advice and special solvent free epoxy resin floor products for several extremely specific applications and industries, such as those designed for use on concrete floor surfaces in contact with potable (drinking) water or to resist other specific chemical or meet special performance demands such as being electrically conductive for example. We also provide 'tailor-made' resin flooring systems with extreme and specific chemical resistance, such as for ultra-hygienic process areas and clean room production buildings, or even to provide radioactivity decontaminable epoxy resin floors, specifically for use in nuclear power plants and other nuclear processing facilities, just as we have at Sellafield, Capenhurst, Barwell and other UK nuclear sites for more than 20 years.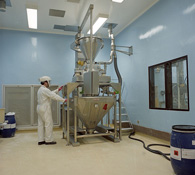 Solvent-free SL Epoxy Resin floor in Hygienic Production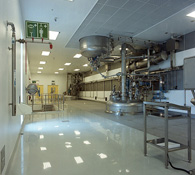 Solvent-free Epoxy Resin Floors for Chemical Production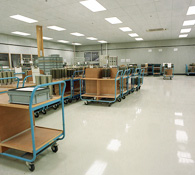 Solvent-free SL Epoxy Resin Flooring for Logistics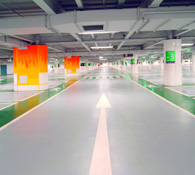 Solvent-free SL Epoxy Resin Floors for Car Park Decks
Resin flooring system build-ups using solvent-free epoxy resin materials:
Due to their generally higher viscosity and thicker consistency, solvent free epoxy resin products also require very thorough and what is termed as 'compulsory' mixing prior to their application. This lack of solvents or other diluents that need to escape during curing, means that solvent-free epoxy resin flooring materials can be used and applied by several different methods and system build-ups, as well as simple high build coatings and broadcast systems water dispersed resin products are limited to, without excessive waiting times. These solvent-free epoxy resin floor system build-ups can therefore include thin layer screeds using self-smoothing / self-levelling and flow applied techniques to produce thicker BS 8204-6 Types 5, 6 and 7 systems, or even more highly aggregate filled and trowel finished Type 6 and 8 Heavy Duty floor screeds.
Priming requirements for solvent-free epoxy resin flooring:
Solvent-free epoxy resin flooring systems to be applied on porous concrete floor substrates may first need to be sealed or 'primed' first, to prevent any reflective air bubbles from the concrete pores and to improve both the speed of application and the aesthetic finish of the trowel / flow applied, self-levelling layer. This is generally done with the same material applied by roller and worked into the surface by brush to ensure full coverage and a sealed surface. Some systems have a less viscous, non-coloured, clear-translucent grade of the same or similar solvent free epoxy resin product as the primer. This seals the prepared surface ready for the full specified system build-up, and this mechanically locked priming also prevents any long-term osmotic blistering or bubbling in the finished resin floor due to rising damp with air and moisture from the substrate or below. A clear grade of the solvent-free epoxy resin flooring material is used to obtain the less viscous consistency that helps to ensure good penetration into the concrete pore structure to give optimum adhesion – and without wasting expensive colour pigments where they will not be seen.
Solvent free epoxy resin flooring + resin flooring contractors:
Solvent free epoxy resin flooring products are usually only recommended for use by professional resin flooring contractors, however where agreed to be appropriate for specific project requirements e.g. due to area restrictions and induction requirements for example, the NCC resin flooring team can also provide guidance and support to ensure successful application by competent term contractors and facilities maintenance crews.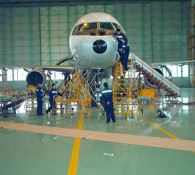 Solvent-free SL Epoxy Resin Floor in Aircraft Hangar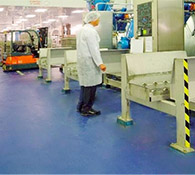 Solvent-free SL Epoxy Resin Floors in Food Industries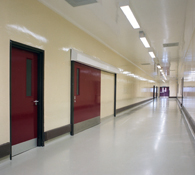 Solvent-free SL Epoxy Resin Floors for Pharmaceuticals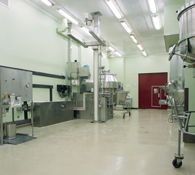 Solvent-free SL Epoxy Resin Floors for Clean Rooms
As with all resin flooring solutions, we can provide the names of experienced resin flooring contractors that can quote to carry out and complete your resin flooring works. These will be part of our professional network of national, regional, and locally operating resin flooring specialists throughout the UK, who between them , work with all of the different resin flooring technologies systems on the market, Some resin flooring contractors specialise in certain resin floor technologies and / or resin floor types, partly as a way to make life easier for their site teams and prevent errors, although not everyone is this sensible – Beware of anyone claiming to 'do all types of resin' or claiming to be 'approved by all resin suppliers – For sure they do not and are not! However, the NCC resin flooring contractor network includes companies in all areas of the UK, of all different sizes and with particular areas of resin flooring expertise – hence the reason we do not have a simple 'list of contractors' that could be used and abused. We always prefer to recommend 'Horses for Courses'! This is especially important with the more complex resin technologies and systems – Such as Anti-Static /ESD systems or the Vinyl Ester Resin Floor Technologies for example, where you really do need a team that knows what it is doing. With the NCC Contractor network we can always provide you with the details of at least one or more experienced resin flooring contractors that will be able to provide you a free quotation for your resin flooring project, in line with one of our detailed specifications and method statements For specific advice on finding and selecting the right specialist resin flooring contractor for your project - please call 01257 266696 and one of our Resin Flooring specialists will be more than able to assist you. Please also refer to the Specialist Resin Flooring Contractors page.