Resin Floor Screed Systems
BS 8204-6 Resin Floor Types 6 and 8 – Trowel Finished Screeds Systems
BS 8204-6 Resin Floor Types 6 and 8 – Trowel Finished Screed Systems - These are generally laid in thicker layers and used as heavy duty systems, especially where there is mechanical impact and abrasion. As they are much harder and tougher than concrete surfaces, the additional thickness also helps to dissipate the stress imparted to them over a wider area to minimise load transfer to the substrate.
These systems are heavily aggregate filled resin flooring systems, which are applied by variations of traditional cement and other floor 'screeding' techniques, using a combination of hand and/or power trowelling and float finishing. The substrate surfaces are usually sealed with a primer / bonding coat before the heavily filled resin mortar is applied 'wet-on-wet' and spread over the area, then finished to line and level by trowelling.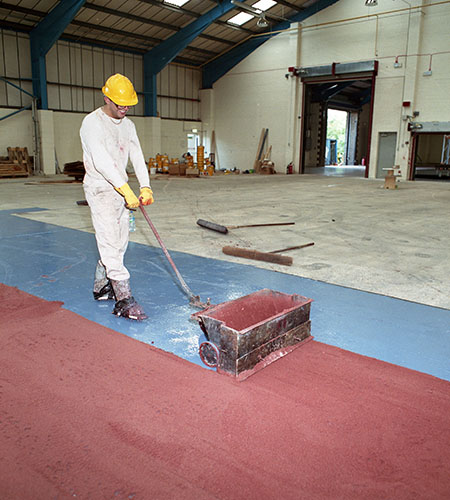 There are some of this type of resin floor screed systems (Type 8 – HD/VHD) that are impervious as laid, but others (Type 6 – MD/HD) are more usually used in dry areas for their excellent mechanical resistance to wear and abrasion. Thy would require an additional top sealing coat to minimize porosity where this is required.
Type 6 - Resin screed flooring trowel-finished Suitable for Medium to Heavy Duty (MD/HD) exposure and as mentioned above, the Type 6 resin floor screeds are especially useful in predominantly dry areas to increase the floor surface resistance to wear and abrasion, such as on loading docks and other heavily trafficked areas. The total thickness required is again dependent on the specific requirements, though these resin screeds are usually applied at upwards of 4/5mm.
Type 8 - Resin screed flooring trowel-finished Suitable for Heavy Duty (HD) to Very Heavy Duty (VHD) exposure in all types of wet and dry areas with the requirement for impact, abrasion and wear resistance. The key difference to the type 6 systems is that Type 8 resin floor screeds are impervious throughout and permeability is not reduced in the event of surface damage and erosion. The applications tend to be smaller areas where the exposure is sever and the significant cost of this type of high performance resin floor screeds is not an issue, because the performance adds value and increases service life and/or reduces the need for repair and maintenance works with downtime and closures etc. The thickness to be specified and applied is once again dependent on the specific area requirements, which tends to be minimum 6 -9mm.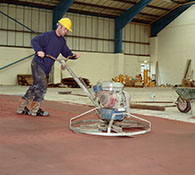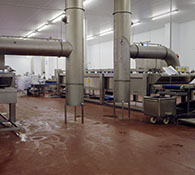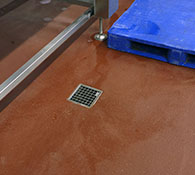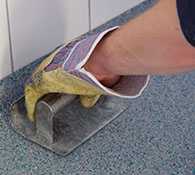 Trowel Finished Resin Screed Systems - Resin Floor Types 6 and 8
Resin floor screeds are generally applied in significantly thicker layers than the Type 1 to 5 and 7 types of high build resin coatings and self-levelling (SL) resin floor systems, which all tend to have a higher percentage by volume of the resin binder content, with only very fine fillers and pigments added for specific performance (e.g. for opacity in paint coating at thicknesses of only 100 to 100 microns, or to give special characteristics e.g. ESD conductivity or slip resistance in the SL systems. Trowelled resin screed systems are produced by adding and further extending the resin binder to ratios of between 1 : 6 and 1 : 10 or even more, with a blend of selected fine sands and aggregates, according to the system design and function. As one would expect, the higher a screed mortar is filled with aggregates, then the less likely it is to be fully impermeable and whilst it will probably have a high compressive strength, it will have a much lower tensile strength than the SL types. This means the trowel finished screeds are great to resist impact and abrasion, where their high strength and increased thickness, greatly dissipates any shock and reduces stress transfer to the substrate – Basically the floor can withstand heavy industrial activities with forklifts and stacker trucks etc. The same properties also make them suitable to dissipate thermal shock in the same way making them suitable for impact areas exposed to thermal shock such as around ovens and chillers etc., in many manufacturing facilities.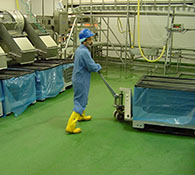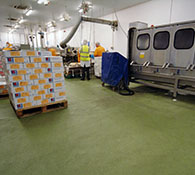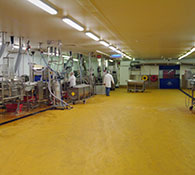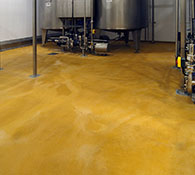 Where resin floor types (6 and 8) are used to provide floor finishes with a high resistance to abrasion and impact, as well as thermal shock dissipation etc., and it is also necessary to make them watertight and chemically resistant, they can be overcoated with a topcoat of one of the Type 5 or 7 SL resin types. NCC have also been involved with the Food Industry for many years and with our suppliers we have developed several 2-part Polyurethane (PU) Resin screed systems that are both Type 6 and * Trowel applied types, BUT these are also fully impervious and watertight throughout their full thickness – Take a look at our Case Studies page using the link below.
Case Studies - Resin Floor Screeds Type 6 & 8 – Trowel Finished Systems
We hope this initial information relating to your industry area and project is useful. You can call for FREE support and assistance on your resin flooring project at any time during normal office hours on: 01257 266696 Alternatively, email us technical@resinflooringsite.co.uk and we will get back to you just as soon as we can.