Resin Floor Detailing
The potential weakness and any weak points of both traditional and contemporary industrial flooring systems from wood to tiles, carpets and resin floors, are frequently the most obvious and visible at the 'details'. The floor 'details' is the term that all the flooring trade tend to use to refer to any areas of the floor finish where there is a change of plane, a termination of the floor finish, a joint through the substrate or just in the floor finish, a connection to a different material, or to any equipment fixed in or onto the floor. This is the same with all types of resin floor finishes and some of the most common resin floor areas and details that need special consideration and treatment with appropriate 'detailing' solutions include: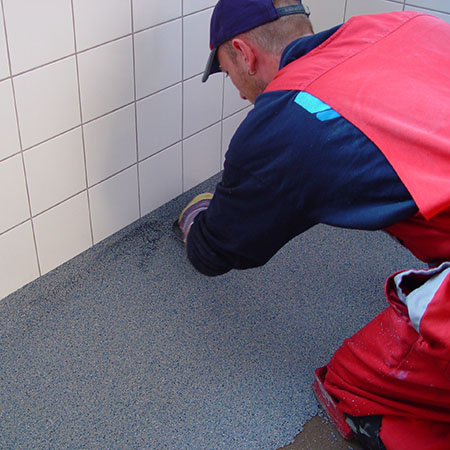 Drains - Drainage channels and gullies or scuppers (according to your regional terminology), must always have to be securely bedded into the floor substrate at the right level and in relation to the falls. Then the resin floor finish must either be saw-cut and 'toed-in' at the junction or this junction must be treated as a joint and after cutting and toeing-in the floor finish, a suitable sized joint should be formed and sealed with an appropriate extruded sealant for the exposure in the area. The specialists at NCC would normally suggest that the best flexible, extruded sealants for this type of critical sealing works are high-performance polyurethane (e.g. Sikaflex-PRO-3WF) or an equivalent MS-polymer hybrid, or a specialist neutral or acetoxy sanitary silicone (not the cheapest on offer from a local Builders' Merchants!), according to the joint dimensions, temperatures and liquid exposure envisaged in the area. Once again as NCC are specialist in this area, there is more information on the Resin Floor Joints page of this website.
Joints - Movement joints in the substrate must be brought through any resin floor finishes and sealed with a flexible sealant to accommodate the required level of joint movement and any other types of exposure in the area. The treatment of construction joints is dependent on the level of any potential joint movement, as well as the type of resin floor technology and system being installed. Generally where movement is significant and the floor finish is not specifically flexible and crack bridging enough to accommodate this, then these must also be treated as movement joints, brought through the floor finish, and then sealed accordingly. Where movement is not sufficiently significant for this then treatment will be defined by the floor finish technology and system build-up and will involve prefilling to seal the joints before overcoating with the resin floor finish, to a manufacturer approved pre-treatment. For example this can be over-banding with a resin rich layer or adding another layer of the same or a similar resin reinforced with a suitable fabric, before overcoating with the specified final resin floor finish. NCC are experts in all forms of resin floor jointing from banding and fabric reinforcing, to sealing with suitable extruded sealant, or providing preformed expansion joints for wide and high movement capability structural joints. Please also refer to our Resin Floor Joints page and for structural expansion movement joints. Our sister company website has extensive information, including our bespoke CAD joint design and detailing service on their website: http://nccmovementjoints.co.uk/expansion-joints/movement-joints.html
Coving – In many industries, and in particular the food, pharmaceutical, and health care industries, the ability to carry out a deep clean is of paramount importance. A right angle at floor to wall junctions is not only difficult to keep clean with normal floor cleaning procedures, but as a result these areas could also provide a particularly good breeding ground for bacteria and micro-organisms. Using a compatible resin mortar to produce a smooth radius curved transition from floor to wall as a cove, or skirting, will ensure a continuous seamless surface that facilitates ease of cleaning and eliminates right angled corners and junctions that trap dirt.
Terminations – At any terminations and connections to other materials and elements of the structure or equipment fixed into or onto the floor, these connections must all be made appropriately and sealed according to the anticipated exposure. If terminations and connections are not correctly treated then it is possible, and in fact likely that failures such as peeling back from the edge will take place, followed by concrete erosion with loss of the cement matrix, leaving hollow sections. This can create breeding sites for micro-organisms which will require costly repair and pose a major hygiene problem.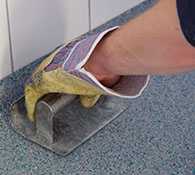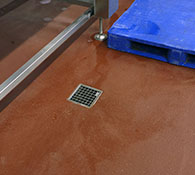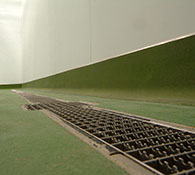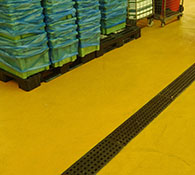 Using NCC system solutions together with skilled craftsmanship for detailing and installation, our resin floor and wall coatings systems allow seamless connections. Grouting integrated detailing components such as drainage channels and cast gullies can ensure complete watertightness and confidence. Following the specialist advice and installation recommendations from NCC and our partners means that your floor to wall and services connections will have maximum durability.
We hope the outline information on resin floor detailing on this page and in the images throughout this website is of initial assistance. Call us for additional FREE support at any time during normal office hours on: 01257 266696 Alternatively, email us a: technical@resinflooringsite.co.uk and we will get back to you shortly.