Introduction to Resin Flooring Manufacturers
NCC's resin flooring specialists work only with the best, world class resin flooring manufacturers using the latest synthetic resin flooring technologies.
These leading manufacturers include major producers with multiple technologies, products and systems such as: Conica AG (manufacturers of high performance, innovative and sustainable epoxy and polyurethane resin flooring systems from Switzerland), Remmers (German owned manufacturers of resin flooring, waterproofing and damp-proofing systems, concrete, masonry and stone cleaning and stone restoration treatments, wood treatments and other materials), and Sika (manufacturers of resin flooring, concrete and masonry repair and strengthening systems, structural waterproofing solutions, resin adhesives & fixings, elastic bonding and joint sealants and other materials).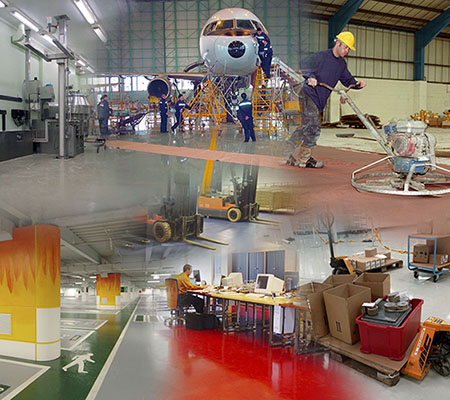 We also use smaller more specialist manufacturers such as Atako Chemie bv (manufacturers of the ATB-300 Vinyl Ester Resin Flooring Systems for extreme chemical resistance), DCP (manufacturers of cementitious underlayment's and mortars), plus VIP Chemie GmbH (manufacturers of the most advanced sprayed Polyurea and Polyaspartic resin systems). There are also a few other specialist ancillary flooring system producers that we can recommend for their different areas of expertise and to meet specialist requirements, such as Emseal Limited, USA (manufacturers of preformed floor and deck expansion joint sealing systems).
This summary is to help illustrate that there is no single manufacturer or contractor that provides all the different resin flooring technologies that are available, not to mention the necessary ancillary materials required for professional detailing and making sealed connections and structural movement jointing etc. Unfortunately, it is only natural that resin flooring manufacturers will always focus on their own products and systems, but NCC's resin flooring experts focus on your project requirements and all available technologies from all possible manufacturers!
NCC's team provide a complete resin flooring service from detailing the requirements, developing the right specification and detailing, determining the most appropriate methods of surface preparation and installation / application, selecting the most cost effective and suitably experienced contractors and providing the right level of onsite Quality Assurance for the process. NCC will supply the right resin flooring materials for all these different areas and applications, including the right detailing solutions, leaving nothing to chance.
We only use the latest high-performance resin flooring technologies from the world's leading resin floor manufacturers.
The Leading Resin Flooring Producers include:
Atako's ATB-300 Vinyl Ester Resin Flooring Systems
Conica's Resin Flooring Systems
Fosroc's Nitofloor Resin Flooring Systems
Remmer's Resin Flooring Systems
Sika's Sikafloor Resin Flooring Systems
VIP GmbH's Quickcoat Polyurea/Polyaspartic Resin Systems
We hope this is a useful introduction and overview of resin floor technology today. For more specific information on each different resin flooring technology and these producers, please refer to the pages in this section of our resin flooring website. We also have a page on each of these important resin flooring system producers here too. These pages give more detail on these leading manufacturers and their resin floor technologies, resin flooring systems and products, including their unique characteristics and performance as and where appropriate for different applications in different areas and industries.
We hope the information relating to your industry area and project is useful and of initial assistance. You are also welcome to call us for our FREE support at any time on: 01257 266696. Alternatively, you can email us technical@resinflooringsite.co.uk and we will get back to you just as soon as we can.