Resin Flooring By Industry
Industrial resin floors generally need to be tough and resistant to some form of severe exposure. Therefore, most resin flooring in most industries is selected, specified, and used to meet the specific high performance demands in the different and increasingly specialist facilities and areas required in each industrial market.
Resin flooring products and resin floor systems come in a wide range of different types, with many different application and performance characteristics. As a result different resin floors can be suitable for use in many different types of area and industry. Resin flooring is used to provide new or upgraded floor finishes in factory production processing, packaging and distribution facilities, and for use in both wet and dry process areas.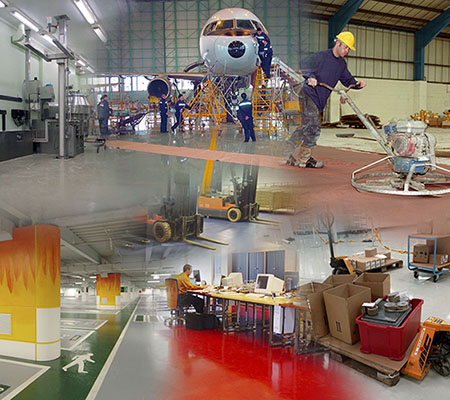 There are resin flooring technologies and systems that are the ideal solutions for everything from domestic garages to commercial showrooms, to all types of hygienic production areas. These include clean rooms, nuclear and other power production or transmission facilities, logistics and distribution centres or warehouses, garages and workshops, showrooms and other retail, display and exhibition areas. In other words, resin flooring has almost unlimited uses and provides a very efficient and cost-effective solution for the floor finishes of almost every type of building and structure.
In these many and varied applications, the resin flooring is primarily used to seal, strengthen, protect, and enhance the appearance and properties of the concrete floor in different exposure areas of each different industry with their specific service and performance requirements. It should also be understood that in addition to differences in performance and durability, different resin flooring technologies have different application requirements and installation limitations. For example some resin flooring products are very sensitive to moisture during their application, and so for these products, the surface and the substrate must be completely dry (i.e. with a measured moisture content less than 4%), whilst other products and systems can be used in, or even require, a saturated, or surface-dry substrate (SSD) for their application. – The point of saying this in this introduction, is to advise building and facilities owners and their professional construction team that as always 'Buyer-beware' - All resin flooring products and systems are most definitely NOT the same.
New build, or refurb with Resin Flooring – No Problem! - If you have issues with an existing floor. and need advice and assistance to put this right or upgrade to a more satisfactory solution, we can help. In these situations, it can be extremely helpful if you can attach any relevant drawings or photos. We can usually make appropriate suggestions quickly, and probably arrange a follow up with one of our floor survey specialists at your facility to fully appreciate and understand your resin flooring requirements.
In the pages of the NCC Resin Flooring Site, we will try and clarify this for you, to help select, specify, and install the right type of resin floor for your project – using the right resin technology and the most appropriate resin flooring system and its component products - and all at the right price!
The resin flooring specialists from NCC's Resin Flooring Site are available to help you in assessing your detailed project requirements, then making these important system selection decisions, and we operate nationwide. Please refer the information relating to your industry in this section, and many other aspects of resin flooring on this website. You are also welcome to call us for our FREE support at any time on: 01257 266696 Alternatively, email us technical@resinflooringsite.co.uk at anytime and we will get back to you just as soon as we can.